What does "affordable" mean when you're Richard Branson? We sifted through some of the world's priciest properties and looked at a resort's or hotel's lowest rates (not necessarily the penthouse or presidential suite, of course, which are always more expensive than standard rooms) to see what the most "basic" overnight stay in one of these not-at-all basic properties would be like. From Sir Richard Branson's private-island resort in the British Virgin Islands to a posh safari camp in Botswana, here's the cost of entry at some very elite hotels.
Necker Island, British Virgin Islands
Rates: $4,280+
It's also not easy to snag a reservation at Sir Richard Branson's Caribbean paradise, because most guests book the entire Necker Island resort… and the 74-acre island. We found a $4,280 rate for October, 2016, which included WiFi and all food, drinks, and activities.
Burj Al Arab Jumeirah, Dubai
Rates: $2,475+
Can you really put a price on bunking in the world's third-tallest hotel? The 202-room Burj Al Arab Hotel -- part of the posh Jumeirah properties -- is perched on an artificial island connected to the mainland via a bridge. We found the $2,475 rate for a deluxe one-bedroom suite in October, 2016. (High season in Dubai is November through March.) On property are five pools, a spa, nine restaurants, and a waterpark.
Villa TreVille, Positano, Italy
Rates: $2,464+
Once you arrive at Villa TreVille, you'll never want to leave, and you won't be able to easily. Accessible only by private boat from Positano, the sea is right below the property and the grounds surrounding the property's five villas are shrouded by leafy gardens. For a Junior Suite on the Sea, the rate in mid-July is $2,464. Rates are inclusive of breakfast and all drinks -- as well as the unparalleled views over the Amalfi Coast from a private seaside sundeck.
Sandy Lane, Barbados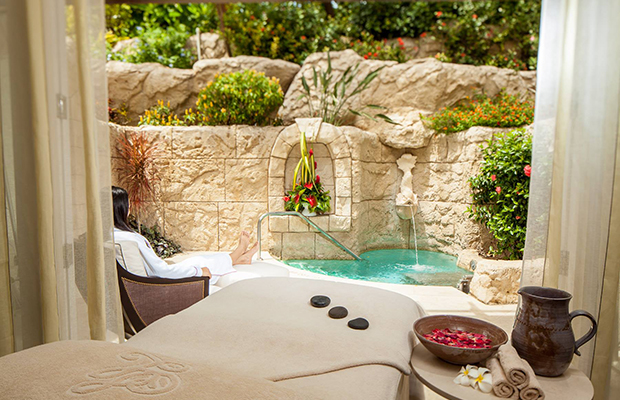 Rates: $2,150+
To stay at Sandy Lane in mid-February, you have to at least spend $2,150 a night on an Ocean Room. Thankfully, the rate also covers daily breakfast buffet, airport transfers, and access to non-motorized water sports. You also have access to a luxury spa and three golf courses (two designed by Tom Fazio). The property is accented with pink decor, iron railings, and elegant spots to eat and drink, such as afternoon tea under mahogany trees.
Anantara Maldives
Rates: $2,100+
As if it isn't enough to be on a private island in the Indian Ocean, you can also stay in one of the Anantara Maldives' 79 private villas, each with its own pool. We found a Beach Pool Villa for $2,100 in late January, with daily breakfast included. Right now all new bookings also throw in one free lunch per guest. Without leaving the resort, you can experience an underwater restaurant, an overwater spa, yoga classes, and activities that range from diving to tennis.
&Beyond Xaranna Okavango Delta Camp, Botswana
Rates: $1,770+
Opulence in the outback is exactly what you'll get at the &Beyond Xaranna camp in the Okavango Delta. There are just nine luxury tents (these aren't your normal camping tents), practically guaranteeing an exclusive and intimate experience with private plunge pools, twice-daily game drives, guided walks, and seasonal activities like boating and fishing. We found the $1,770 rate from June 1 to October 31, 2017.
Fowl Cay Resort, Exumas, Bahamas
Rates: $1,714+
Accommodations at Fowl Cay Resort are in six private villas -- with dreamy names like Starlight and Seabreeze -- on a private 50-acre island, with a pool, bocce-ball and tennis courts, and three beaches. Rates account for all meals and drinks and access to your own golf cart, plus a personal motorboat. You can eat in your villa (each comes with fully stocked cupboards and fridge) or at Fowl Cay's Hill House for dinner. We found $1,714 for the one-bedroom Lindon Villa (the smallest of the six villas) between March 1 and August 31, 2017.
Huka Lodge, Taupo, New Zealand
Rates: $1,653+
Huka Lodge is surrounded by 17 acres of gardens for a calming oasis. For a Junior Lodge Suite, the rate in mid-December is $1,653, which covers breakfast, pre-dinner drinks and a five-course dinner each day. Airport transfers are also included. Inside each of the eighteen Junior Lodge Suites, French doors open out onto the Waikato River, and on property you'll find a swimming pool, library, and courts for tennis, croquet, and pétanque.