As Norwegian Cruise Line prepares to debut Norwegian Prima this summer—the first ship in a new class that's smaller and more upscale in design than her six Breakaway and Breakaway Plus sisters—the cruise line has revealed additional details about novel onboard features, including 35 dining and bar concepts (nine of them new).
While family-friendly favorites are aboard, including the Prima Speedway racetrack (now longer and curving over three levels rather than two) and Galaxy Pavilion's virtual-reality gaming center, the fun doesn't stop there. Norwegian has also created a range of sophisticated spots designed for grown-ups and given Prima a curvier silhouette with elevated décor and around 700 pieces of original art. Norwegian also recently announced pop star and American Idol judge Katy Perry as the ship's godmother.
Here's what cruisers can expect when 3,215-guest Prima sets sail in August 2022.
New Bar & Lounge Concepts
There are a half-dozen new bars and lounges aboard Prima, but the most innovative is the Metropolitan Bar, which will serve "responsibly crafted, zero-waste cocktails"—such as the signature "Primadonna" made with surplus banana peels from the ship's galley and Flor De Cana rum produced with 100% renewable energy—plus 20 biodynamic wines and responsibly sourced botanical gins.
Other spots to enjoy a cool libation include The Belvedere Bar for a modern take on classic cocktails, the decanter-inspired Whiskey Bar located in the Penrose Atrium, and the Prima Speedway Bar, where drivers can check their race standings and relive the experience with other go-kart fans.
Novel Dining Venues and Revamped Menus
The Indulge Food Hall, located aft on deck 8, will showcase 11 casual eateries—such as Nudls (serving noodle dishes from Thai to Italian) and Tamara (offering Indian specialties)—with two even designed to look like food trucks. They are included among Prima's four complimentary dining venues, as is Surfside Café, a buffet-style and à la minute restaurant serving breakfast, lunch, and dinner.
Two other new complimentary venues include the elegant Commodore Room and Hudson's, which is designed to mimic a contemporary land-based restaurant, albeit with 270-degree ocean views. These elevated, revamped main dining rooms replace Taste and Savor. Each will also feature a wide-ranging, globally-inspired menu that, unlike all other cruise ship main dining rooms, won't change daily—allowing for a focus on quality ingredients and enhanced preparation. Menus will also include a "build-your-own-pasta" plus a specialties section that features select dishes from Prima's specialty restaurants. The revamped menu concept will then roll out fleetwide through 2023.
New in specialty dining (for an additional cover charge) is Palomar, a Mediterranean seafood restaurant; Hasuki, an elevated hibachi-style restaurant with artisanal décor featuring handcrafted Japanese pottery and artwork; and Nama, a contemporary sushi house. In addition, Cagney's Steakhouse will feature a new interior design that celebrates Chicago's 20th-century modernist architecture, while Le Bistro will get a Versailles-inspired "Hall of Mirrors" makeover with three floor-to-ceiling chandeliers. Meanwhile, Food Republic, which offers mouthwatering pan-Asian eats, boasts an enlarged space, enhanced décor, and improved outdoor views.
Larger Outdoor Spaces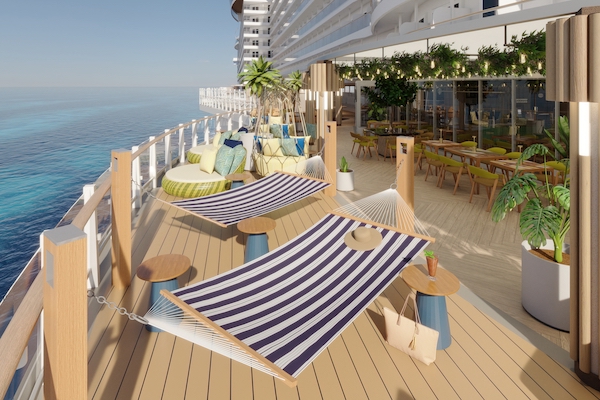 The evolution of Norwegian cruise ship design continues with Ocean Boulevard, a wide-open, 44,000-square-foot outdoor space that encircles deck 8 and features Infinity Beach (a trio of infinity-edge pools); Indulge Outdoor Lounge, a fun space with a fire pit, hammocks, and daybeds located aft outside the new Indulge Food Hall; The Concourse, lined with six original and dynamic sculptures by internationally renowned artist Alexander Krivosheiw; and Oceanwalk, a glass bridge. Three additional Norwegian specialty restaurants—Onda by Scarpetta, the Local Bar & Grill, and Los Lobos—also feature outdoor seating on Ocean Boulevard.
Bigger Thrills
Upping the thrill ante, Prima's next-generation racetrack is longer, and its slides are steeper. In fact, the Prima Speedway go-kart track is more than a quarter-mile in length, which is over 20 percent larger than the track on Norwegian Encore. Guests can steer through 14 turns spread over three decks as they reach speeds of more than 30 MPH. Speed is also the goal on The Drop, the world's first freefall dry slide featuring a 10-story plunge reaching the highest G-forces of any cruise line—more Gs than an accelerating F1 racecar. Additionally, The Rush is a pair of dueling dry slides where guests can race each other, while the ship's Aqua Park and Main Pool area has Norwegian's first Tidal Wave waterslide that guests can ride on an innertube. More adrenaline rushes await in Galaxy Pavilion, which is designed with several new virtual-reality attractions along with two escape rooms.
On the other hand, theater-goers will especially enjoy Summer: The Donna Summer Musical. This 75-minute immersive production is set in the three-deck Prima Theater and Nightclub. The space transforms into a full disco as guests become a part of the show while singing and dancing along to Summer's greatest hits.
A Sophisticated Atrium
Whereas Breakaway and Breakaway Plus-class ships featured a bustling atrium with a massive TV screen surrounded by 24/7 pub The Local, Prima's three-deck Penrose Atrium strikes a more dazzling pose. The space, which houses the Penrose and Whiskey bars, also offers access to the Prima Casino.
The Atrium was designed by Miami-based Studio Dado and features a futuristic custom chandelier by Czech lighting firm Lasvit, which is modeled after constellations. Lighting installations, which will also simulate the sun rising, surround a massive wall-art piece resembling a topographical map.
Spacious Staterooms and a Relocated Haven
Even though Prima is smaller than its Breakaway and Breakaway Plus siblings, it will feature Norwegian's largest-ever inside, oceanview, and balcony staterooms—plus the line's most spacious standard stateroom bathrooms and showers. There are also a whopping 13 suite categories, including the largest three-bedroom suites of any new cruise ship. Stateroom décor features muted neutral tones with contemporary murals created by artist Amy Rader, which are inspired by five historical figures and natural elements such as butterflies and crystals.
Lastly, The Haven, Norwegian's exclusive suite enclave, has been relocated to the aft of Prima and given an elegant refresh by Italian interior design legend Piero Lissoni, who created the look of the Haven Suites and public spaces, all of which now feature sea views (previous Havens were centered around a courtyard). The new spaces include a Haven Sundeck overlooking a wake-view infinity pool and the Haven Lounge & Bar, featuring floor-to-ceiling windows and chic architectural details.