An Italian Seaside Town You've Probably Never Heard Of
The French Riviera gets plenty of press. But what feels a bit more unknown is the Italian side, often called the Ligurian coast. Here you'll find fewer tourists, affordable food and drink, and just-as-stunning vistas. Can we tell you an even bigger secret? The seaside town of Ospedaletti, located about an hour over the French border with a population of just over 3,000 people, is about as much of a hidden gem as you can get. 
Here's our official travel guide to Ospedaletti, Italy's best-kept secret.
Where to Stay in Ospedaletti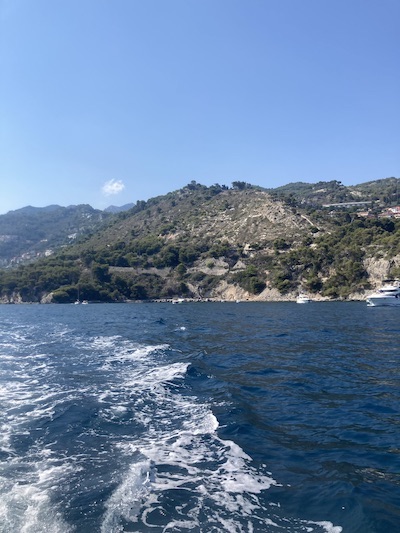 My husband and I wanted to see what it felt like to "live like a local" in Italy, so we rented a modest apartment for the month of July. We chose this town because it was the exact opposite of NYC: small, quiet, calm, and beachy. There aren't a lot of hotels here, but they have a handful of rentals. Ours was a one-bedroom that had been recently updated with a living room, a modern kitchen, air-conditioning, and a large and lovely balcony that overlooked the Mediterranean: and it was perfect. 
How to Get to Ospedaletti
Getting to Ospedaletti was a bit of a challenge if you don't have a car, but it's worth the effort (i.e., schlepping our suitcases on public transit). After a lot of back and forth on travel forums, we devised a plan. First, we flew directly from Newark to Nice on La Compagnie airlines. Upon landing, we took the AirTrain from the Nice airport to Grand Arenas. From there, a short walk to St. Augustin train station took us to Ventimiglia (another charming town along the coast), where we got a cab to our Airbnb. Alternatively, you can take the bus from Ventimiglia to save a few dollars. On our return trip, we took a car/taxi from our Airbnb directly to the airport (about $120), which shaved off at least one hour. 
What to Do In Ospedaletti
Ospedaletti is more of a resort town that gets busier in the summer months, especially in August; it's mostly filled with Italians and a handful of French visitors. The area is also popular with cyclists as the pista ciclabile (bike path) is an easy and scenic 24-kilometer (approx. 14.9 miles) trail running along the Italian Riviera, part of which is nicely shaded.
After just a few days in Ospedaletti, we settled into a routine: wake up with an espresso and pastry, walk or bike through the trail, swim in the clear and calm waters, have a panini sandwich, take meetings, and work. In the evenings, we'd hit up aperitivo hour (the best!) followed by a long and leisurely late dinner. 
What to Eat in Ospedaletti
For a town of just over 3,000, there are a lot of restaurants in Ospedaletti. A few of our favorites included Byblos for a splurgy dinner and their daytime beach club for a delicious seafood salad lunch; Bar Alba Trattoria for a lovely courtyard setting; L'Osteria for an incredible al fresco dinner with homemade ravioli; Alexandra for a great aperitivo, dinner with sea views, and delicious gelato; Baixaricò for pizza; and 1909 for an upscale meal in the town square. Each Wednesday, there's a market in town where you can buy fresh fruits, vegetables, meats, and even clothing and accessories. Also, don't miss the focaccia — the region is known for its traditional oven-baked bread cooked in flat sheet pans, flavored with olive oil and herbs. It's nearly impossible to eat a meal without a piece of it. 
So, go while you can — we're certain this place won't be a secret for long.
Want to take that trip for free — and score some valuable miles for your next excursion? Check out our top pick travel credit cards for the best welcome bonuses, perks, and plenty of cash back.