Each year, the ShermansTravel team hand-picks our favorite bucket-list-worthy budget destinations. Now, we're excited to reveal our top picks for 2022, which include an idyllic island paradise, a centuries-old European city, and one of the most underrated cities in the United States. 
Turks and Caicos
You may not think of Turks and Caicos as a typical budget pick. However, the destination is now more affordable than ever. The island hasn't always been inexpensive to get to, but as of this past December, Frontier Airlines is offering non-stop flights from Providenciales starting at just $59 one-way. Sun Country Airlines also recently launched a non-stop flight from Minneapolis to Providenciales, with one-way fares as low as $159. 
But, once you land in this island paradise, where will you stay without breaking that bank? Consider Ports of Call Resort, which sits right along the iconic Grace Bay. Rooms at this boutique property start at $219, with breakfast included. Alternatively, the all-suite Royal West Indies is ideal for larger groups and starts at $295, and Osprey Beach Hotel – which is located on Grand Turk – offers a laid-back vibe and nightly rates starting at $200. There are even more properties with rooms under $200 per night, including the charming Pelican Beach Hotel, a family-owned boutique property. Once you've booked flights and accommodations, you'll be pleased to find that the best thing on the island – the exquisite beaches – are entirely free. 
Alaska Cruises
Cruising the 49th state has become very popular over the last few years – and it's not as pricey as you think. See Alaska's jaw-dropping landscapes and beautiful wildlife for less with value-packed deals on larger lines, like Norwegian Cruise Line, Princess Cruises, and Holland America Line. Those with a taste for the finer things in life will be delighted to know that luxury cruise lines also sail to The Last Frontier – and some even come with all-inclusive fares, complimentary cabin upgrades, onboard credit, and more.
No matter the interest, Alaska brings all the stops to the table. Almost every itinerary stops at Juneau, Skagway, and Ketchikan, all of which offer bucket-list-worthy excursions: In the capital of Juneau, find adventure at Mendenhall Glacier and interesting history at the Alaska State Museum. Taking the scenic route always pays off in Skagway (a former gold-rush-era town) on The White Pass and Yukon Route Railroad. The railway runs vintage locomotives through the mountains, which means you can always expect magical views. Ketchikan features rich wildlife, Native American totem poles, and a shopping strip full of locally owned businesses. 
As of the date of publication, we found fares as low as $650 per person for a 7-night sailing aboard Norwegian Jewel, which includes free perks such as an open bar, specialty dining, excursions, wifi, and extra guests.
Lombok, Indonesia
Sure, Bali is great – but it's also crowded, which only hikes up the cost of visiting. That's why travelers searching for a more secluded locale should visit the island of Lombok instead. Like Bali, Lombok is famous for its natural beauty. Expect white-sand beaches (Mandalika and Kuta are favorites) and awe-inspiring volcanos (including Mount Rinjani, which is over 12,200 feet tall), as well as tranquil waterfalls and colorful coral reefs. And, since the destination lacks lots of tourists (read: no markups), you'll find value-packed, ultra-affordable food and drink options that clock in at around $11 to $15 per day.
You can also expect incredible value when it comes to accommodations. Beachfront hotels, such as the luxe Katamaran Resort, which offers ocean-facing rooms, suites, and villas (some of which have private infinity pools and balconies!), hover around $60 to $100 per night depending on your room type. Cut costs even further by selecting a hotel that's not on the beach, such as the sleek and contemporary Aston Inn, which has an on-site spa and outdoor swimming pool (from $32 per night).
While Lombok does have an airport, most travelers can save by flying to Bali and hopping on a small propeller plane (approximately 20 minutes, tickets from $30). You can also take a ferry to the island; however, it's a bit more of a hassle since you'll need to get to the rural island of Sumbawa. If you plan on exploring more of the Gili Islands, Lombok is your best bet due to its central location. As a result, you can also expect cheap transportation prices when island hopping. 
Boise, Idaho
Under-the-radar, fast-growing Boise offers the perfect combination of outdoor activities and attractions you'd expect from bigger cities – all without the high price tag. The boutique Inn at 500 Capitol and The Modern Hotel & Bar (a hipster-fied roadside property) both offer comfortable, affordable accommodations. At KIN, a restaurant and art gallery space, inventive seasonal tasting menus offer five-course communal meals for $90 per person or $125 with an optional beverage pairing.
Experience the thriving local beverage scene with a wine flight for $20 at Telaya Wine Co., cider tasting at Meriwether Cider for $12, or beer sampling at Barbarian Brewing for $18 to $22. Plus, complimentary activities abound: Walk the largest outdoor art gallery in the Northwest, Freak Art Gallery; hike along the foothills surrounding the city; or stroll the 25-mile long Boise River Greenbelt. 
Covington, Louisiana
This charming town on Louisiana's Northshore is often overshadowed by New Orleans, its buzzier neighbor. But, don't sleep on Covington, which is known for its dining scene, art galleries, and, of course, loads of Southern hospitality.
Visitors should book a stay at the luxurious Southern Hotel, where rates start at $150 per night. There's a fantastic restaurant, a handsome bar with craft cocktails, Southern-chic guest rooms, a small pool, and a lobby that's been accurately dubbed Covington's living room. Don't miss dinner or brunch at Oxlot 9, which is beloved by locals for its high-end Gulf-Southern fare (chargrilled oysters for $15; entrees under $30). Del Porto is one of those restaurants that would be incredibly expensive in a larger city but is much more approachable – though just as exquisite – in Covington. While in this part of the state, experiencing nature is a given. The Tammany Trace is a 31-mile paved path that can be walked, biked, or rollerbladed under the shady trees. Plus, it's completely free.
Spirit Airlines offers non-stop flights into New Orleans that start at just $50 – and Covington is less than an hour's drive away. 
Riviera Maya, Mexico
Are you looking for an affordable, warm-weather escape away from the hustle and bustle of Cancun? Head south along the coast of the Caribbean Sea to Riviera Maya, where you'll find an array of lodging, food, and drink options (ceviche and cerveza, anyone?) to suit any style and budget. Meanwhile, those looking for activities beyond the white-sand beaches will be pleased with wallet-friendly excursions in culture-rich Tulum and history-, nature-filled Xcaret.
Getting here is easy, too. That's because there is an abundance of affordable round-trip flight offerings from major gateways across the U.S. In fact, we found round-trip flights on low-cost carriers like Frontier for as little as $139 this winter. 
Denver, Colorado
Denver is best known as a cold-weather oasis thanks to its ample skiing trails and winter sports opps. However, the vibrant city is worth visiting any time of year, specifically April-May and September-October, which is considered Denver's shoulder season. During these months, travelers will enjoy mild, mostly sunny weather – plus fewer crowds.
The city is also home to dozens of free attractions that are actually fun. Highlights include gallery-hopping Golden Triangle Creative District, touring The Colorado State Capitol, jogging (or walking!) along the historic Red Rocks Amphitheater, or perusing the expansive Denver Art Museum. Families with young children can explore the Children's Museum of Denver at Marsico Campus, while beer enthusiasts can sign up for the Coors Brewery Tour. The 42-mile Cherry Creek Trail, which winds through lush greenery, is popular among tourists. 
Additionally, an increasing number of airlines are adding more routes to Denver – most recently Allegiant Air, which will offer flights to the Mile High City for as low as $39 as of March 2022. 
Ireland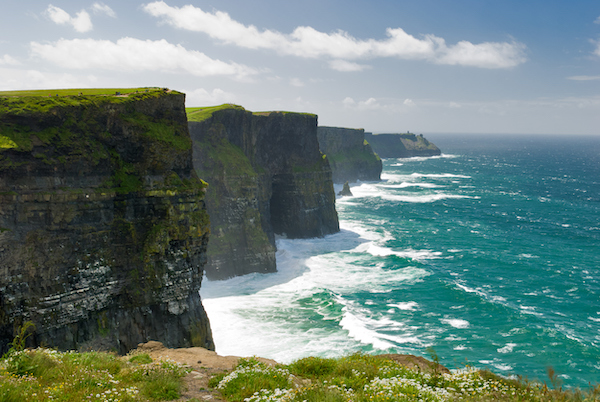 Rolling green hills, cozy pubs, and incredibly friendly locals are just a few reasons to visit Ireland. The county hasn't always been known to be a budget destination, but there are actually ways to make the Emerald Isle more affordable. 
Start with a vacation package, which allows you to knock out a good portion of expenses (not to mention hassle) at a bundled price. We like this one from Great Value Vacations, which includes a stay at Adare Manor, airfare, and loads more. Alternatively, the Bed & Breakfast package allows you to choose from dozens of B&Bs around the country and effectively build your own road trip itinerary. Keep in mind that the country's most iconic stops are often free or inexpensive (think: The Cliffs of Moher, historic castles, and plenty of pubs with live music). Plus, Aer Lingus offers non-stop flights from the U.S. – and all over Europe! – starting well below $500.
Nevada 
Las Vegas and the Reno/Lake Tahoe region may take the spotlight, but there's plenty more to explore in Nevada. In fact, The Silver State is home to many small towns with authentic western history and charming independent hotels to match, from Pioche to Ely and beyond. For example, in Tonopah, consider the gorgeous Belvada Hotel (from $129). Or, if you're feeling extra adventurous, spend a night or two at the world-famous Clown Motel (from $80).  
The best way to experience the country's seventh-largest state embarking on a road trip – and if you pick up a rental car on non-holiday dates, rates can be found as low as $7 per day. And, between stops, nature takes center stage. From the otherworldly Cathedral Gorge State Park to the sprawling Great Basin National Park, to Joshua tree-lined Route 15, there are plenty of stunning vistas to take in no matter where the road takes you.   
Kotor, Montenegro 
Montenegro is often overlooked in favor of its neighboring country, Croatia – but don't let that deter you from visiting. One place not to miss? The coastal city of Kotor. This destination, which is flanked by the clear-blue waters of the Adriatic, is most famous for its charming Old Town (a UNESCO World Heritage Site), charming streets that appear straight out of a storybook, and centuries-old architecture. The 2,000-year-old city is best explored on foot – and at your own pace. 
Many of the city's best attractions are either completely free or almost free, including The Ladder of Kotor (a famous walking/hiking path) and the historic Kotor Maritime Museum, where admission is just over $4.50 per person. If you prefer a more laid-back activity, visit the secluded Bajova Kula Beach. (Pro tip: Enter on the right side for free admission; otherwise, you'll pay approx. $11 per person.) Meanwhile, Durmitor National Park – another UNESCO World Heritage Site – is another highlight with its winding rivers, vast gorges, expansive forests, and scenic hiking trails. Entrance to the park costs just $3  – a total steal, especially compared to other national parks in Europe. 
When it comes time to retreat to your hotel room, you'll have plenty of affordable options. Here, mid-range hotels hover around $80 to $110, while more upscale options clock in at around $170 per night. Consider visiting in the shoulder season (May, September, or October) for even cheaper accommodations and fewer crowds. On that note, it's essential to keep in mind that the "pricier" accommodations are those that are centrally located in the heart of Old Town – ultimately saving you time, effort, and energy when it comes to exploring the city's best sites.  
Want to take that trip for free - and score some valuable miles for your next excursion? Check out our top pick travel credit cards for the best welcome bonuses, perks, and plenty of cash back.