San Diego's famous for its weather (with average daily temps of about 70 degrees), its zoo (the panda exhibit is downright addictive), and its Top Gun bravado (thanks to the U.S. naval base at Miramar). But this city also makes a picturesque setting for a romantic long weekend filled with beach strolls (or jogs), afternoons of golf or tennis, sipping surprisingly nuanced locally produced wines, and dining on everything from spicy fish tacos to new American gourmet. I have visited San Diego several times, so here are my suggestions for what it offers couples.
SEEING & DOING
Coronado: You shouldn't visit San Diego without spending a few hours on this palm tree-studded island located across a causeway in San Diego Bay. The magnet, of course, is the iconic Hotel Del Coronado (shown above at left), a circa-1888 Victorian beauty whose landmark white facade and red cupola served as the backdrop for the Marilyn Monroe/Tony Curtis/Jack Lemmon comedy Some Like It Hot. You can walk through its wood-paneled lobby (keep your sixth sense peeled for Kate Morgan, a guest who died here in 1892 and is said to haunt the place), on your way to the beach, where a stroll rewards with a postcard view.
Balboa Park: If museums or the arts are your thing, head to 1,200-acre Balboa Park, which is home to 17 museums, 19 gardens, nine performing arts venues and the world-famous San Diego Zoo. Have your cameras ready as you stroll toward the stunning Spanish-Renaissance-style architecture of the museums along the central El Prado walkway (shown at right), built for the 1915–16 Panama–California Exposition. You can easily and happily spend an entire day or two here.
Del Mar Racetrack: If you visit from mid-July until early September, check the racing schedule at the atmospheric and history-rich Del Mar Racetrack, about 25 minutes north of downtown, which opened in 1937 and was the scene of the famous Seabiscuit–Ligaroti race in 1938. Place your bets, grab two cocktails, and may the best thoroughbred win (hopefully your pick)!
La Jolla Cove & Torrey Pines State Natural Reserve: Nature puts on a fabulous show in La Jolla (pronounced La Hoya), a pretty community located about 20 minutes north of downtown. Here, you can spy on local sea lions and pelicans as they bask on the rocks of La Jolla Cove (and seriously fit swimmers as they do ocean laps between buoys) and then head to Torrey Pines State Natural Reserve (entry fee: $10) for an invigorating eight miles of hiking trails amid photogenic coastal cliffs dotted with Torrey pine trees. If you are a daring duo, you can even tandem hang glide or paraglide from the nearby Torrey Pines Gliderport.
Downtown Waterfront: While aircraft carriers are not intrinsically romantic, San Diego's downtown port and waterfront is a beautiful spot for a sunset stroll – especially if your ultimate destination is the National Salute to Bob Hope and the Military, located adjacent to the U.S.S. Midway. I dare you not to get emotional as Hope's recorded voice fills the air with jokes and your eyes scan larger-than-life-size bronze sculptures of not only Hope, but also 15 men and women in uniform from WWII to the first Persian Gulf War arranged in a semicircle of awe and appreciation (shown at left). Afterward, sip cocktails in the bar at adjacent The Fish Market restaurant and, if hungry, stay for dinner (see below).
Julian: If you like to drive, love the mountains, and have a hankering for apple pie, this former gold-mining town, located about an hour and 15 minutes east of San Diego, makes a fun day trip. Just a few square blocks in size, Julian offers crafts shops, galleries, a wine-tasting room, several casual lunch spots, and plenty of opportunities to eat pie. A favorite: Julian Pie Co. After you've had your fill, stop by the welcoming Menghini Winery a few miles outside of town to taste six varietals for a mere $5; plus, you get to keep the glass.
WINING & DINING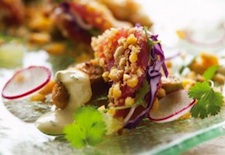 Georges at the Cove: Whether you are celebrating a special occasion or just have an appetite for delicious and creatively prepared new American cuisine, reserve a table at the California Modern dining room at Georges at the Cove in La Jolla. Here, Chef Trey Foshee wows with creative, seasonal twists on classics such as fish tacos (deconstructed with melt-in-your-mouth raw ahi tuna and fried avocado, shown at right), date salad (arugula, goats cheese, walnuts, and pomegranate vinaigrette), and smoked lobster (rich and decadent with slow-roasted carrot, glazed turnip, curried apple puree, and lobster hollandaise). Meat eaters will be sated, as well, by Niman Ranch strip steak and braised lamb shank. If you are in La Jolla midday or want to go more casual (and admire the view), you can dine upstairs at George's Ocean Terrace, where the menu includes burgers, paninis, and zesty salads. Ocean Terrace, from $35 for two; California Modern, from $150 for two.
Brockton Villa: Brunch couldn't be more relaxing than at Brockton Villa, a casual eatery in a vintage white house overlooking La Jolla Cove, where you can sip cappuccino and savor plump "Coast Toast" or a an artichoke and asparagus omelet alfresco while enjoying the view. Brunch from $30 for two.
Orfila Vineyards & Winery: About 30 minutes north of downtown (near the San Diego Wild Animal Park), the award-winning, family-owned Orfila Vineyards & Winery is set amid lovely vineyards (shown at left) and makes a great stop for a leisurely wine tasting; there's also a patio with a view. The cost is $10 per person for six tastes (I loved the 2008 Coastal Merlot and the 2010 Estate Lotus).
The Fish Market: A casual dining fixture since 1989, The Fish Market, on the water's edge in downtown, offers a constantly changing menu of seasonal and local fresh catches (mesquite grilled filets are a specialty), as well as house-smoked fish, seafood pastas, an oyster bar, and a sushi bar. Its lively vibe and great bay views make it a great spot to soak in the local lifestyle. Lunch for two from $35; dinner for two from $65.
Beach: Even if you're not staying here, the sand-floored rooftop Beach lounge at the W San Diego (see below) is a terrific spot to kick off the evening, especially during the weekday 4–7pm Happy Hour. There are comfy loungers, fire pits, and great people watching. Drinks for two from $10.
STAYING & SPA-ING
Andaz San Diego: The recently opened Andaz San Diego (formerly The Ivy) woos the edgy urban traveler with its rooftop pool and bar, plus 159 rooms with sophisticated contemporary decor (featuring sexy, glass-enclosed bathrooms, shown at right), a complimentary glass of wine or bottled water at check-in, and the Cozy Ivy Wine Bar serving 88 selections by the glass. Book the "Your Crush for the Night" package and get complimentary sparkling wine and chocolate-covered strawberries, VIP access (Fri./Sat./Sun.) to the hotel's nightclub, and breakfast for two, from $189/night.
W Hotel San Diego: With its downtown location and youthful vibe, the decade-old, 258-room W Hotel San Diego is also ideal for couples who want to be in the center of the city's nightlife (both the waterfront and the Gaslamp Quarter are nearby) and who appreciate a contemporary ambience (rooms are compact, but well-designed with airy blue-and-white decor), and its own rooftop pool and lounge, from $170/night.
La Valencia Hotel: The romantic, pink-hued La Valencia Hotel has been a landmark in La Jolla since its opening in 1926 and its 112 rooms and suites (many with balconies offering scenic views) deliver old-world charm amidst the shops and eateries of this oh-so-picturesque town. The hotel also features three restaurants (from the clubby Whaling Bar and Grill to the elegant Mediterranean Room) and a lounge, plus a palm-tree-lined pool and a spa, from $335/night.
Park Hyatt Aviara Resort: Located about 25 minutes north of downtown in Carlsbad (not far from Del Mar and La Jolla), the 200-acre hilltop Park Hyatt Aviara (shown at left) pampers couples with 329 classic-style rooms, a 15,000-square-foot spa (try the two-hour "Love Ritual," $400), an 18-hole championship golf course, tennis courts, and three restaurants. Stay by February 29, 2012, with the "It's Even Better When It's On Us" package (reservation code WELCRE) and receive a $100 resort credit for a 2-night stay and $200 for a 3-night stay, from $520/night.
See our San Diego Travel Guide for more trip-planning information, then use our Travel Search price comparison tool to find the lowest rate on flights, hotels, packages and more travel deals.