Newly famed as the first location of the World Ski Awards, as well as long-time host of the World Cup Ski races each year, including the downhill run on the famed (and scarily steep) Streif slope, Kitzbühel has a reputation for being one of the fanciest ski resorts in all of Austria. We've discovered it is possible, however, to have your strudel and eat it – on a budget. Here are just a few highlights and dollar-saving ideas for this tony resort…
Budget-Chic Hotels
The majority of hotels in Kitzbühel are five-star and priced accordingly, however there are a handful of four-stars in their midst. Hotel Bichlhof, for example, is renowned for its location as the starting point for  stunning mountain walks, and has rooms starting from $181. Alternatively, B&B chalet Edelweiss Ski Chalet opens in December 2013 in nearby Zell am See, and is just a 15-minute car journey from Kitzbühel. Run by a British couple, it offers charming rooms from $49 per person.
High Culture, Low Prices
While a visit to nearby Swarovski Kristallwelten, or Crystal World (exterior pictured above) may not sound like a frugal activity, the entrance fee is actually only $15 ($13 if you're in a group), and the vast gift store at the end of a tour offers sparkling crystal rings from around $25, or keyrings for $13. The "World" is a museum with 14 "fantasy chambers" decked in Swarovski crystals, each envisioned by various designers, including the late Alexander McQueen.
Another way to see the slopes without investing in all that pricey ski garb is by catching a cable car up through the fog to the top of the mountains for $26 return and grabbing some phenomenal peak views, as well as a hot chocolate at mountain-top eatery Restaurant Hoch Kitzbühel.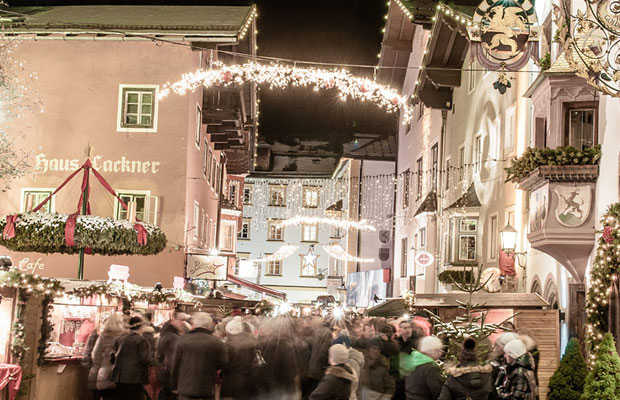 Shopping and Eating for Less
While the picturesque centre of Kitzbühel looks as if it has just leapt out of a high-end fashion magazine, with its cobbled streets, pastel-coloured buildings and a roster of high-end designer stores, there is a cheaper way to enjoy a little retail therapy. Be sure to check ahead for the afternoon markets selling local delicacies such as the Vanillerostbraten, a garlic-infused beef dish, and Grüne Würstl green sausages. You'll also find deer horns and other locally-sourced products. Go during the holiday festival season – it costs nothing to stroll through the beautiful Christmas markets. You may even catch some carol singers, or a torchlight stroll lead by storytellers. And of course, you can always stop by the children's zoo.
[Photos: tyrol.tl; kitzbuhel.com]