While we can't escape to our favorite spa or wellness resort for some rest and relaxation right now, we're bringing a zen experience home with these 14 items. 
1. A Dead Sea Mud Mask
Made to treat all skin types, this mineral-infused mask removes dead skin cells, oil, dirt, and toxins to leave you refreshed and rejuvenated. Buy it now.
2. This Plush Bathrobe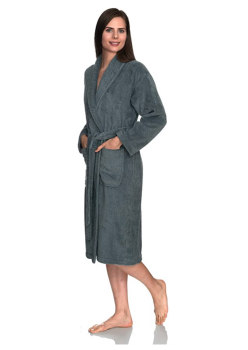 Get that spa-like feeling by wrapping yourself in this fluffy terry shawl robe, made Turkish cotton. Choose from 12 colors. Buy it now.
3. A Relaxing Foot Bath
Give your feet some TLC by using this at-home foot bath, which massages and soothes tired, overworked feet. It's also collapsible, so you can easily stow it away when not in use. Buy it now.
4. Some Super-Soft Slippers
Once your feet have blissed out in their bath, slip them into these furry slides that provide plenty of support. Take your pick of four colors. Buy them now.
5. This Pretty Essential Oil Diffuser
Pump soothing scents into your space with this little device that cycles through seven colors with changing lights to provide a soothing ambiance. Buy it now.
6. These Essential Oils
Pair your diffuser with this set of eight organic aromatherapy essential oils. This one has an anxiety relief oil, plus lavender, peppermint, rosemary, orange, tea tree, eucalyptus, and lemon. Buy them now.
7. This Neck and Back Massager
Be your own masseuse with this shiatsu massager that has a built-in heat function, eight nodes, speed control, and a carrying case. Buy it now.
8. A White Noise Machine
Kick back and relax with this handy gadget, which can block out distractions with 20 sounds to choose from. Other highlights include 32 volume levels and an automatic timer. Buy it now.  
9. This Fruit-Infusing Water Pitcher
Get that spa-like taste with this pitcher that lets you infuse water with your favorite fruit. Bonus: It comes with an ice ball maker. Buy it now.
10. A Scented Candle
Let your worries melt away with this vanilla coconut essential oil stress relief candle that can improve sleep quality and boost tranquility. Buy it now.
11. Goat Milk Lotion
Constant hand washing and sanitizing can undoubtedly leave your skin dry and chafed. Repair it with this set of goat milk body lotion and hand cream, which don't leave a greasy residue. Buy it now.
12. These Microfiber Headbands
Keep your hair back and out of your face with these adorable soft elastic bow headbands, available in a set of five pastel patterns. Buy them now.
13. A Set of 12 Bath Bombs
Made in the US, these bath bombs are perfect for your next bubble bath. These are made with cocoa butter and shea, and come individually wrapped. Buy them now.
14. This Glitter Peel-Off Mask
Shrink the appearance of pores and cleanse impurities with this cruelty-free mask that peels off easily. Plus, it has a fresh, fruity scent and is made of biodegradable glitter. Buy it now.
ShermansTravel uses affiliate links in this article to generate revenue. When you purchase an item after following one of these links, ShermansTravel may receive a commission. The items in this article were chosen independently by ShermansTravel's editorial team.