Heading to a national park? The next time you explore the country's most magnificent natural wonders, make sure you're fully equipped with this gear.
1. These Waterproof Hiking Boots
Lightweight and durable, these boots have a non-slip rubber sole ideal for rough terrain. Buy them now.
2. This SPF 100+ Sunscreen
Protect yourself from harmful sun rays with this non-greasy, water-resistant sunscreen lotion. Buy it now.
3. A Lightweight Tripod 
Capture amazing photos with this device, which is compatible with most cameras and can be used with a smartphone adapter. Buy it now. 
4. A Power Bank 
Don't be caught without juice for your phone or other devices. This external battery pack can keep iPhones charged for up to three times and has a built-in flashlight. Buy it now.
 5. This Sun Hat
Shield your head and face from the sun with this unisex hat that has an adjustable chin chord and a sweatband. Buy it now. 
6. A Flashlight
You never know what you'll encounter in the wilderness. This waterproof flashlight has five modes and can last for more than five hours. Buy it now. 
7. These Binoculars
Get a closer look at your surroundings with this pair of binoculars that provides 10 times magnification and weighs less than two pounds. Buy them now.
 8. A First-Aid Kit 
Plan ahead for small scrapes, cuts, and more by toting this 100-piece kit that includes a Moleskin blister pad, bandages, gauze pads, and plenty of other essentials. Buy it now.
9. This Foldable Backpack
We love that this nylon bag comes in eight solid colors and three prints. Waterproof and made with heavy-duty zippers, it's compact design means you can fold it for storage. Buy it now.
10. A Pair of Walking Sticks
Get a grip on rough surfaces with these aluminum sticks that have an adjustable height. Choose from eight colors. Buy them now.
11. A Cooling Towel
Prevent getting overheated with this towel – just soak it in water, wring it out, and put it around your neck. Buy it now.
12. Insect Repellent
Tell pests to buzz off with this DEET-free spray, made with lemon eucalyptus oil. It keeps bugs away for up to six hours and isn't greasy. Buy it now.
13. A Compass
Even if you don't know where you're going, this will lead you in the right direction. It's shakeproof and glows in the dark, so you can use it any time of day. Buy it now. 
14. A Filtered Water Bottle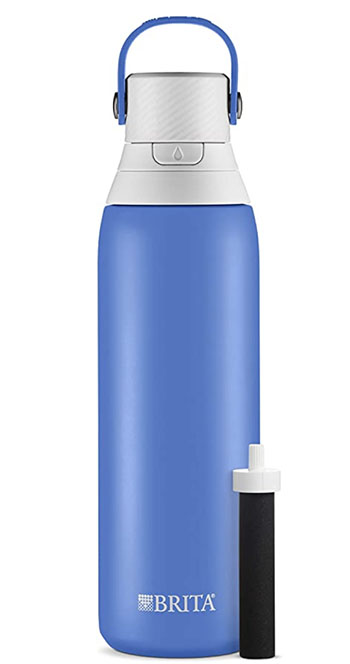 Stay safely hydrated with this double-walled bottle that has a built-in filter. It'll keep your water cold for 24 hours and comes in several colors. Buy it now.
ShermansTravel uses affiliate links in this article to generate revenue. When you purchase an item after following one of these links, ShermansTravel may receive a commission. The items in this article were chosen independently by ShermansTravel's editorial team.