Disney World may be closed due to the coronavirus, but it doesn't mean that we can't capture the magic. We're dreaming of the day we can walk (okay, skip) down Magic Kingdom's Main Street, USA again, but until then we're snapping up these eight items to bring the magic of the mouse right to our doorstep.
1. The Official Walt Disney World Album
Put a little pep in your step with this 36-track album that includes songs from beloved attractions like The Enchanted Tiki Room, it's a small world (good luck getting that one out of your head!), Pirates of the Caribbean, and more. Stream it now.  
2. This Book of Disney Parks Poster Art
If you've ever passed through the tunnels of the Walt Disney World Railroad station at the front of the Magic Kingdom and noticed the attraction posters adorning its walls, you know these pieces of art are just as beautiful as the parks themselves. This book showcases the posters from Disney attractions around the world, and is perfect for Disney fans and art enthusiasts alike. Buy it now.  
3. A Mickey Mouse Waffle Maker
One of our favorite ways to start the day at Disney is with a Mickey waffles breakfast. Make a stack at home with this waffle maker, which comes in several different designs, including one of the Minnie variety. Buy it now.  
4. The Maps of the Disney Parks Book
Get lost wandering the pages of this read, which features concept art maps from the resorts around the world. Buy it now.
5. This Sweet and Sticky Treat
Epcot's Karamell-Küche shop features Werther's Original caramel items, including popcorn that's made daily and draws hordes of guests. The next best thing for home enjoyment is this yummy three-pack of Werther's Original caramel popcorn. Buy it now.
6. A Recipe Book to Cook Like a Jedi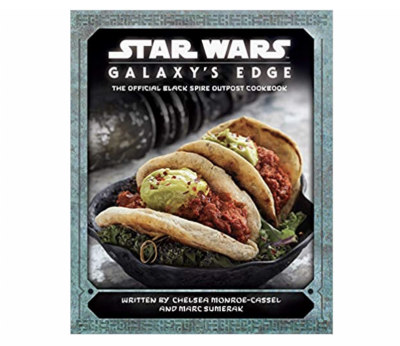 The recently opened Star Wars: Galaxy's Edge lands at Disneyland and Disney's Hollywood Studios introduced unique and delicious dishes to the theme parks, including the popular ronto wrap – roasted pork and sausage with slaw wrapped in pita bread. Make your own, along with dozens of other bites, at home using this cookbook. Buy it now. 
7. These Character Socks
You'll definitely have happy feet with this five-pack of socks, featuring two pairs that have the likeness of Mickey and one pair each for Donald, Goofy, and Pluto. Buy them now.
8. This Book of Walt Disney World Secrets
Until it's time to head back to the Most Magical Place on Earth, test your knowledge of the parks with The Hidden Magic of Walt Disney World by Susan Veness, filled with 600-plus anecdotes about the Florida resort's four gates. Buy it now.
ShermansTravel uses affiliate links in this article to generate revenue. When you purchase an item after following one of these links, ShermansTravel may receive a commission. The items in this article were chosen independently by ShermansTravel's editorial team.