Whether it's for business or pleasure, a road trip or beach vacation, here are gifts for travel-loving dad. 
A Classic and Cool Pair of Sneakers
These Adidas sneakers will not only look cool but take you from sightseeing to dinner. Buy them now. 
A Travel-Themed Jigsaw Puzzle
Travel from your kitchen table with this 1,000-piece Route 66 jigsaw puzzle, which even comes in a fun suitcase box. Buy it now.
A Cool Power Bike
Rad Power Bikes are stylish, comfortable, and safe – the perfect gift for dad. Preorder any e-bike using promo code FDAY-GIFT20 and get one free accessory (up to $100 in value). Buy it now. 
A Sleek Suitcase
This handsome spinner suitcase from Wrangler has an expander, loads of pockets, and a USB charging port. The best part, though, is the genius coffee cup holder. Buy it now.
A Great American Travel Book
This beautiful book from National Geographic showcases 5,000 ideas for all 50 states. Buy it now.
The Perfect Travel Backpack
This backpack, made specifically for travel, has just about every bell and whistle you can imagine. There's space for a laptop, USB charging port, and over 20 pockets. Plus, it unfolds to make security a breeze. Buy it now.
A Convertible Garment Bag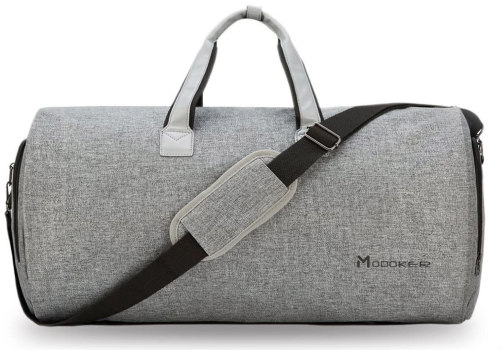 This bag is basically two in one. You can hang clothes to avoid wrinkling, add shoes and accessories, and then the bag magically folds into a compact duffel. Buy it now.
A Leather Weekender 
This super-luxe weekender is made of handcrafted full-grain leather. There's also a separate compartment for shoes. Buy it now.
A Free Canvas Print
Surprise your father with a free 11" x 14" canvas print from CanvasPeople (just pay shipping and handling). All canvases are made in the U.S., and stretched on renewable wood and come with a hanger pre‑installed. Get it here.
ShermansTravel uses affiliate links in this article to generate revenue. When you purchase an item after following one of these links, ShermansTravel may receive a commission. The items in this article were chosen independently by ShermansTravel's editorial team.