There's nothing better than lounging in a swimming pool on a hot summer day. But if you can't make it to a hotel pool or you don't have one in your backyard, don't fret! These seven inflatable pools offer respite from the heat. 
1. A Pool With a Canopy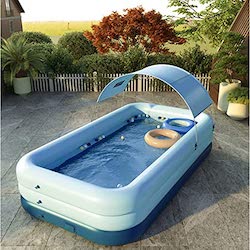 This inflatable pool by Justin City is roomy enough to splash around. Plus, it has a canopy for extra shade. Buy it now. 
2. A Patterned Pool You'll Definitely Want to 'Gram
Not only is this tropical-inspired pool super chic, but it'll also keep you (and two of your nearest and dearest) cool for hours. Buy it now. 
3. A Pool That's Perfect for Lounging
This inflatable pool is equipped with two seats, headrests, and cup holders. Buy it now. 
4. This Kid-Approved One
This kiddie pool has numbers, animals, and letters printed on the bottom. Just plug a hose into the mat for an instant water sprinkler. Buy it now. 
5. A Dino-Themed Pool With A Slide
This dinosaur-themed pool is like having a water park in your own backyard. It's complete with a colorful arch, a sprinkler, and a small slide. Buy it now. 
6. An Inflatable Pool with a Basketball Hoop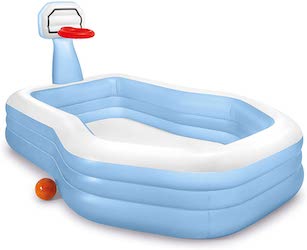 This pool (which has an attached hoop) is so cool, even the big kids—and parents—will want to play. It also comes with a basketball. Buy it now.  
7. This One With a Bench 
This pool is roomy enough for the whole family. It even has a built-in bench, which makes it ideal for lounging. Buy it now.
ShermansTravel uses affiliate links in this article to generate revenue. When you purchase an item after following one of these links, ShermansTravel may receive a commission. The items in this article were chosen independently by ShermansTravel's editorial team.