Travel might look a bit different this year, but there's no better time for an outdoor adventure. From an engravable compass to a high-tech drone, here's a gift guide for the adventure-lover in your life. 
This National Parks Journal
This National Park Passport is a way to remember all of those amazing, outdoorsy trips you've taken. The pocket-sized journal has 20 pages with sections to record the date, location, companions, wildlife, and more. Plus, there are bonus pages for checklists and bucket lists. Buy it now.
A Portable Camping Hammock 
Take a snooze while you take in nature with this portable camping hammock. The super-durable hammock is easy to assemble and folds into a small attached sack. Bonus: It's comfy enough to ditch the tent. Buy it now.
An Engraved Compass
Consider this an outdoorsy heirloom. The compass has an antique brass finish with a copper rose dial and can be engraved on the top, back, and bottom. It comes in a handsome cowhide case with an attached chain. Buy it now.
The Bucket List Book
This beautiful book makes for an attractive item on your coffee table, but it's so much more than that. This Bucket List Book covers everything from glass-blowing in the Czech Republic to swimming with dolphins in New Zealand; which makes it even more special when you're traveling virtually from your home. Buy it now.
LifeStraw Water Bottle
The LifeStraw Water Bottle can literally be life saving. The reusable BPA-free water bottle filters water while drinking and removes 99.9999% of waterborne bacteria, and 99.9% of waterborne protozoan parasites without chemicals, iodine, or batteries. It looks good, too! Buy it now.
Darn Tough Hiking Socks
Socks don't have to be a lame present. The Darn Tough Hiker Micro Crew Cushion Socks are made from merino wool, which stays cool in the summer and warm in the winter--ideal for the hiker in your life. Buy it now.
A Stylish Rash Guard
Form meets function, here. This Roxy rash guard is not only stylish and flattering, but is made with SPF 50, so you have more time for surfing than applying lotion. Buy it now.
An Inflatable Paddle Board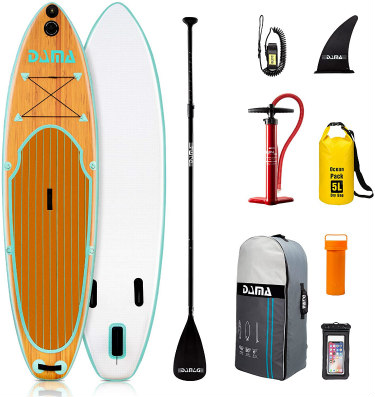 This inflatable paddle board from DAMA is made from Military Ultra Light PVC Drop Stitch Fabric, so you know it's extra durable. The board takes just 10 minutes to inflate and 5 to deflate. It comes with loads of extras like a port camera bracket mount, floating paddle, hand pump, safety ankle leash, repair kit, removable fin, a waterproof bag, and a large comfortable backpack to hold everything. Buy it now.
A Wearable Sleeping Bag
So warm and cozy, there'd be no judgement if you wanted to wear this outside the campsite. This product is made with a durable outer shell with armholes and a locking zipper that makes it easy to get in and out of. Plus, there's a hood. Buy it now.
Their Very Own Drone
This drone is ideal for the beginner, but will impress a pro. With loads of bells and whistles, like a built-in GPS with a spectacular camera, this drone is the perfect companion to capture any adventure. Buy it now.
ShermansTravel uses affiliate links in this article to generate revenue. When you purchase an item after following one of these links, ShermansTravel may receive a commission. The items in this article were chosen independently by ShermansTravel's editorial team.