Given the staggering array of cruise options today – 200-plus ships operated by 25 North American lines accommodating from 100 to 5,400 passengers – couples shopping for a romantic journey at sea can't be blamed for feeling confused. And while big ships have their advantages, namely attractive prices and a smorgasbord of dining and entertainment venues, smaller vessels offer unparalleled intimacy, exceptional quality and access to some of the most stunning ports imaginable.
If you are looking for an extraordinary cruise this summer, consider a ship holding no more than 450 passengers and sailing a relaxed itinerary along a scenic coastline, such as the Mediterranean or Adriatic. Here are details on two romance-ready small ships: casually elegant Wind Surf (at right) and stunningly sleek Seabourn Odyssey. I sailed on both in recent months and know that they deliver an especially seductive experience and a roster of exceptional ports of call.


WIND SURF (www.windstarcruises.com) Largest of Windstar Cruises' trio of intimate motor-sail-yachts, Wind Surf holds just 312 passengers. From mid-April until early November, she sails seven-night itineraries in the Mediterranean, including the ultra-romantic Rome-to-Rome cruise I booked, with calls on Corsica, Sicily, Sorrento, Capri, and Ischia. The vibe is friendly and welcoming as passengers, many of whom have sailed Wind Surf before, mingle over bon voyage cocktails in the indoor-outdoor Compass Rose bar at the ship's aft. Located just below are a pool (one of two) and a pair of hot tubs – ideal spots to relax at sail away after a day exploring sun-drenched ports. The 123 ocean-view staterooms, while compact, are among the best designed at sea, with plenty of storage space and a bathroom with a fabulous shower (great pressure, easy controls). The ship's 30 ocean-view suites offer twice the space, with a sitting area and two bathrooms – ideal for couples that find it difficult to share a sink. None of the cabins or suites has a verandah (just portholes), but there are plenty of peaceful places to lounge along the teak decks.
Pleasing aesthetics are one thing, delightful ambience is another – and Wind Surf excels at both. Smiling staff members go out of their way to learn your first names and preferences (from your favorite cocktail to your ketchup addiction), while your fellow cruisers are apt to engage you in post-port chitchat and invite you to join them for dinner. If you'd rather dine à deux (as did the five honeymoon couples on my cruise), there are lots of tables for two in the ship's five superb restaurants: The Verandah, serving breakfast and lunch; The Restaurant, serving open-seating dinner nightly; Degrees, serving Mediterranean fare by reservation; Le Marche, serving an al fresco set-menu seafood dinner by reservation; and Candles, serving an alfresco casual grill dinner by reservation. While all were wonderful, Degrees delivered a consistently superb menu (the duck was amazing) that kept me coming back for more. PS: There's no need to pack for a formal night, as Wind Surf's dress code is there is no dress code.
Equally pleasing were the picturesque ports: charming Porto Vecchio on French-speaking Corsica (where my boyfriend and I enjoyed a casual stroll with vibrant vistas); bustling Messina, Sicily, gateway to historic Taormina (where we explored the ancient Greek-Roman amphitheater and shared the best cannoli ever); sublime Sorrento on the Amalfi Coast (where we hopped a local bus for the hair-pin-turn thrill ride to postcard-perfect Positano and refueled over zesty pizza margarita by the beach); magical, four-square-mile Capri (where we wandered on foot, snapping one breathtaking photo after another, and savored the freshest Caprese salad imaginable); and idyllic Ischia (where we explored the massive Aragonese Castle, recognizable from The Talented Mr. Ripley). And on either end of this enchanting sail, we enjoyed overnights in eternally romantic Rome – bellissima! Seven nights from $1,549-$2,149 per person.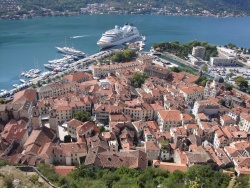 SEABOURN ODYSSEY (www.seabourn.com) Second newest in Seabourn's five-ship fleet of luxury yachts (twin sister Sojourn debuts in June), 450-passenger Odyssey augments the five-star service of its 208-passenger siblings with captivating interior design and a wealth of space – it's three times larger yet holds just double the passengers, plus 90 percent of the suites have verandas. From May to October, she sails the Adriatic and the Greek Isles on seven to 28-day itineraries visiting culture-rich cities such as Athens, Venice, and Istanbul and an array of idyllic isles. Our seven-night Greece & Dalmation Isles cruise began in Piraeus (Athens), Greece and ended in Venice, with calls in Pylos, Greece; Corfu, Greece; Kotor, Montenegro; Dubrovnik, Croatia; and Rovinj, Croatia (since changed to Ravenna, Italy).
Odyssey's 225 suites are some of the most luxurious I've seen – modern and elegant with décor in shades of chocolate, gold, and caramel. All have granite baths with full tubs and separate showers, plus walk-in closets and flat-screen TVs. At the very least, book a Veranda Suite to enjoy private outdoor space or splurge on a 534-square-foot Penthouse Suite with spacious living area and oversized veranda with two comfy chaises. Another tip: Book the special passes to the Spa at Seabourn for unlimited access to a sauna, steam room, thalassotherapy pool, and a Jacuzzi on a secluded aft deck; we were in it every night for sail away and had company just twice.
Seabourn prides itself on its five-star service, innovative restaurants with menus by celebrated chef Charlie Palmer, and open-bar policy – and I must admit, the food was amazing and it was wonderful not to have to sign for every glass of wine you order. For dinner, Odyssey passengers can choose from the elegant open-seating Restaurant or the artsy, reservation-only Restaurant 2, serving innovative tasting menus that change nightly. A note: Seabourn sways to the formal side of cruising with jackets required in some dining venues and black-tie or black-tie optional evenings on most cruises.
With embarkation in historic yet hip Athens and disembarkation in utterly romantic Venice, the Greece & Dalmation Isles itinerary offers the perfect mix of urban-chic and island-casual experiences. Port calls include Corfu (a Greek island of sweeping panoramas and stunning coves); Kotor, Montenegro (an ancient, walled town set snug at the end of a narrow, deep blue fjord – see my photo, above); Dubrovnik, Croatia (one of the most beautiful cities on the Adriatic); and Ravenna, Italy (new this year and renowned for its basilicas and mosaics). A cruise aboard Odyssey provides days and nights of luxury you will long remember. Seven nights from $2,999 per person.