Celebrities expect and get the very best. This high end clientele pulls in to tip-top spots around the globe, at properties as iconic as they are.
These six sexy properties have played home away from home to everyone from the Obamas to Madonna, providing the perfect respite for royalty, rock stars, and heads of state. So, whether you are looking to globe trot, celebrity spot, or simply live in the lap of luxury, you may want to hunker down in one of these world class properties for otherworldly accommodations and simply the best spa treatments on the planet. Enjoy…
Morocco – La Mamounia
This legendary luxury hotel (pictured above), once owned by Moroccan royalty, has a long history of hosting the "who's who" of international royals, politicians, celebrities, and the jet set since opening its doors in 1923. Winston Churchill wintered there, and Hitchcock shot The Man Who Knew Too Much in the hotel's lobby
In recent history, this timeless Moroccan palace just outside the Medina's walls reopened its doors in 2009 after extensive renovations led by acclaimed interior designer, Jacques Garcia. Jennifer Aniston, Selma Hayek, Gwyneth Paltrow, and Orlando Bloom were but a few of the famed faces that attended the grand reopening.
Since then, Sex and the City's Sarah Jessica Parker, Kim Cattrall, Cynthia Nixon, and Kristin Davis all stayed at luxe La Mamounia while filming SATC2.
Their 27,000-square-foot spa, an epicenter for pampering, offers more than 80 treatments. The absolute favored amongst Gwyneth and the celeb set is the Traditional Hammam, which starts with a black soap, followed by a Honey Scrub & Orange Infusion and finished with a Tadelakt (Arabic word for caressing) massage. (120 min/1,500 MAD). Traditional Massages are done with Argan Balm and Monoï butter (60 min/900 MAD). www.mamounia.com
St. Vincent and the Grenadines – The Cotton House
Located on the idyllic Grenadine island of Mustique, which is a mere 3 miles long, the Cotton House is a picturesque hillside hotel overlooking the Caribbean Sea. This intimate 17-room property is the only hotel on Mustique, considered one of the most exclusive private islands in the world. That's why it's long been known as a "playground to the stars," hosting an endless list of celebs and royals.
Mustique's Signature Treatments are the Aloe & Lavender Wrap (45 min/$115), Lime & Pineapple Body Scrub & Wrap (75 min/$190), and The Luxury Coconut Experience (1hr 45 min/$200), which begins with a coconut and brown sugar body scrub, followed by exfoliation, a coconut cream wrap, and a luxurious body massage using coconut and ylang ylang essential oils for relaxation and an overall sense of well-being.
The celeb-set prefer an array of treatments. Rolling Stones singer Mick Jagger loves the Deep Tissue Massage (60 min/$170). Tommy Hilfiger loves Manicures ($45), Pedicures ($70), and Facials (45 min/$105) oh my. The famous Middleton sisters' favorites are the Aromatherapy Massage (60 min/$160) and Manicures ($60), while British bad boy Hugh Grant loves the Aromatherapy Massage (90 min/$205) on its own. Country crooner and newlywed Shania Twain prefers Deep Tissue and an Indian Head Massage (25 min/$75) to maintain that tranquil island vibe.
This property is so intimate you just might bump in to Becks at breakfast. www.cottonhouse.net
Israel – The Dan Tel Aviv
The Dan Tel Aviv is in the heart of Israel's sexiest city, overlooking the Mediterranean Sea and a stunning beach with trendy beach bars and a buzzing promenade. The hotel of choice for several years for politicos, rock stars, and royals alike, it's reflective of the dynamic culture of the surrounding city with nearby designer shops, top restos, and hip bars.
Madonna, or Esther as she is often known in Israel, takes a more active approach to her rest and relaxation. While on a recent visit to Tel Aviv, Madonna brought with her a container of exercise equipment and fitted one of Dan's conference halls as an upscale fitness center that was heated up to relatively high temperatures creating her own on-the-go bikram yoga studio.
Other celebs tend to take a more passive approach to their Israeli R&R, favoring the Traditional Japanese Facial Massage/Kubidu, a powerful and gentle technique that releases tension and strengthens facial, head and neck muscles, perfect for a celeb head.
Other go to's are the Ayurveda, a gentle massage using warm sesame oil, covering the body with long circular movements, and the Hot Stone, a relaxing, all body massage with warm oil and hot basalt stones. All treatments are based on time $55 for 30 minutes, $80 for 45 minutes, and $95 for 60 minutes.
Hillary Clinton has checked out and in to the Dan, as has Obama. Perhaps when you slip in to Dan's spa you may hear a high level humming or sophisticated singing in the spa. It could be other music icons; Paul McCartney, Bob Dylan, Marianne Faithful, and the Lady Gaga recently made a stay of it. www.danhotels.com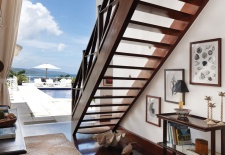 Jamaica – Round Hill Hotels and Villas
It's no secret that Jamaica has had the well-heeled rolling in to the island for several decades now. James Bond's British scribe Ian Flaming spent a lot of time in Jamaica and sent his sexy spy on espionage adventures there as well.
No matter what the occasion, be it literary or luxury, Round Hill Hotel and Villas in Montego Bay, Jamaica has always been on the travel radar with celebrities and notables including Camelot's own JFK and Jackie O, the ultimate celebrity duo, who spent their honeymoon there.
Almost all celebs and jet setters indulge in one treatment or another at The Spa at Round Hill, located in a beautifully restored 18th-century plantation house on 10 acres of beachfront lawn.
Round Hill's Signature Hot Stone Massage is a must. Heated stones are hand gathered from natural resources of the Caribbean Sea, which gives them incredible healing energy and a diversity in shapes. The stones are bathed in warm Jamaican aromatherapy oils giving them therapeutic energies. Guests choose from one of three aromatherapies: rose oil for attracting, giving and receiving love, Jamaican Lemongrass for feeling uplifted and inspired, and Sweet Orange/Lavender for calming and peace (50 min/$125 or 80 min/$165).
Harry Potter's own Emma Watson, Rupert Everett, and Sigourney Weaver love the outdoor seaside treatments. www.roundhill.com
South Africa – The Table Bay Hotel
If you're a city slicker who loves to be surrounded by natural beauty, then the Table Bay Hotel is your South African sweet spot. Set in the heart of the hip and contemporary Cape Town on the Victoria & Albert waterfront with views of both the Atlantic and Table Mountain, this is a true urban oasis.
South Africa's biggest super star Nelson Mandela helped open the hotel in 1997. An endless string of notable celebs have been resting their famous heads ever since.
Another South African icon Charlize Theron, Aussie's own Kylie Minogue, our Michelle Obama and L.A.'s Snoop Dogg, NY's De Niro and Kimora Lee Simmons, and several others have made the Table Bay Hotel their South African home away from home.
The celebs tend to favor the classic Swedish Massage (60 min/$60), at Table Bay Hotel's Camelot Spa. Kylie and Blair Underwood both, but not together, have enjoyed the treatment on the rooftop spa.
If on deck, be prepared for royal relaxation. Queen Sonja of Norway, Vladimir Putin (who's visited on several occasions), and Nelson Mandela, who comes back from time to time, may be borrowing your lounge chair or passing you in the sauna. www.hoteltablebay.co.za
Paris - Hotel Fouquet's Barrière
The Hotel Fouquet's Barrière is located on the famous French corner of the Champs-Elysées and Avenue George V, right across the street from fashion icon Louis Vuitton. This fashion forward French hotel and the Parisian city are far from novices when it comes to entertaining the celeb and jet set, rock stars and royals.
Paris has long been the global fashion and culinary capital, not to mention the epicenter for art and entertainment, and was once the literati hub in the mid-20th century. That level of relevance remains today as the city continues to attract artists, romantics and royals alike.
As the first Parisian "grand hotel" to be awarded five-star status, Fouquet's boasts what they call a "dignified luxury," which has appealed to the likes of Grace Kelly, Theodore Roosevelt, and James Joyce in its day.
Today local Parisians Juliette Binoche and Sophie Marceau slip in to the hotel and the spa, while Americans actors and athletes Lawrence Fishburn and Carl Lewis and the Black Eyed Peas all love Fouquet's fitness room and pool, one of the largest indoor pools in Paris.
Sensai are favored spa treatments at Fouquet's U Spa. Sensai Face Treatment (90 min/$250), combines a range of facial massage techniques and products to deeply hydrate the skin and Sensai's Body Treatment ($275) is an anti-ageing treatment combining massage and Sensai's Premier Body Cream, the world's most luxurious cream containing over 20 Sensai extracts, Koishimaru Silk, and other anti-ageing ingredients.
That must be why the French looks so flawless. www.fouquets-barriere.com
Use our Travel Search price comparison tool to find the lowest rates on hotels, flights, vacation packages, and other travel deals.