A few weeks ago, I discovered that the people of Toronto are unrelentingly polite and tidy, which didn't really confound my expectations. But would I also describe Torontonians as succulent, spicy, sexy, sublime, and stupendous? Well sure, some of them, but those words more easily describe the city's street food.
With limited time and stomach capacity, I took what is admittedly a snapshot of Toronto's rapidly emerging casual dining scene. However, should you find yourself grazing Toronto on a tight schedule – and tight budget – here are seven snacks you really don't want to miss.
1. Peameal Bacon Sandwich (Carousel Bakery & Sandwich Bar, St. Lawrence Market, $5.75)
Until I ventured to downtown Toronto's impossibly tidy St. Lawrence Market, my only encounter with Canadian bacon was on an Egg McMuffin. And while I will one day go back to the McDonald's version, it will never invite comparison to thick peameal back bacon, whose succulence brings to mind the juiciness of New York City corned beef more so than anything sliced from a pig. A soft sourdough bun smartly doesn't compete with the pork, and a smear of maple mustard provides sweet balance to the bacon's perfect saltiness. Lines (or as they say in Toronto, line-ups) within the market and at Carousel can be intense during weekends and weekday lunchtimes, so arrive early for a shorter wait and some elbow room.
2. Kozlik's Mustard (The Mustard Emporium, St. Lawrence Market, $6.00 per bottle)
In a true show of Canadian friendliness, the peameal bacon purveyors at Carousel feature some of the mustards you'll find at this nearby St. Lawrence market stall, and, if you're questioning whether mustard can stand on its own as a snack, it's not for nothing that 90% of the world's mustard is grown in Canada. Kozlik's Amazing Maple flavor is the one to match with your bacon sandwich, as noted, but at this stall you can dip tiny free pretzel sticks in many mustard samples, including the sinus-clearing XXX Hot mustard and the well-balanced Sweet & Smokey. After careful consideration, I selected the latter as my bring-home jar, which later on was good-naturedly confiscated by a staffer at Pearson International Airport. So remember to pack your mustard in a checked bag if you hope to bring it home (or order it online).
3. Mayan Hot Chocolate (Soma Chocolate and Gelato, Distillery District, $3.33)
The quaint Distillery District, closed to traffic so that visitors may enjoy boutiques and galleries at their leisure, is a peaceful area belying a spicy secret – the Mayan Hot Chocolate at Soma. You'll find single-origin truffles and an above-average chocolate gelato here, too, but your focus should be on ordering "one short intense shot" (not cut with milk or water) of the Mayan brew, laced with ginger, orange peel, vanilla, cinnamon, some other spices Soma clearly doesn't want to reveal, and, most essentially, chili peppers. If you think the pairing of chili heat and chocolate is played out, a sip of what the shop calls "an elixir" will change your mind.
4. Charcuterie Tea (Tealish, 728 Queen St. West, prices vary by cup, from $6.50 for loose leaf tins)
If you like the bohemian-but-not-too-edgy feel of Washington, D.C.'s Adams Morgan neighborhood or New York City's St. Mark's Place, you'll enjoy The West Queen West area of Toronto, where you'll find whimsically-named businesses like the record store Rotate This or a pub named The Dog's Bullocks. Perhaps even more whimsical is that the delicate and Zen-like Tealish is right across the street from those businesses.
I'm not a tea person, but I am endlessly fascinated by attempts to make tea taste like something else. So I was pleased that the herbal Toasty Almond brew tasted exactly the way it sounded. More unexpected was the sexy French bakery taste yielded by the Patisserie black tea, which includes pistachio, cumin, and peppercorn among its more aggressive flavors. Sampling robust teas in this manner may inspire you to buy loose tea, a mesh tea ball infuser, and other tea paraphernalia, but, if you do, just make sure you're committed to using it, as well as brewing the perfect cup (check the company's website for brewing instructions for each kind of tea).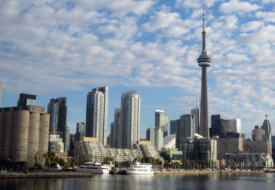 5. Red Velvet Cupcake (Dlish cupcakes, 833 Queen St. West, $3.00)
Cupcake bakeries have gone from novel to commonplace, and likewise the red velvet cake craze seems to be on a similar journey. One important distinction at Dlish, however, is that their red velvet cupcakes get their red from Belgian red cocoa, not from combining red food coloring and garden-variety cocoa. The cake is the star here, the cream cheese frosting just sweet enough. If you're not a red velvet fan, the salted caramel cupcake is also a winner. Because these babies are highly perishable, you can't ship them home, so just be happy you're in Toronto consuming one.
6) Beijing Mac + Cheese (CheeseWerks, 56 Bathurst St., $11.00)
CheeseWerks pulls off the tricky proposition of making a grilled cheese sandwich a core menu item, as I have often found in the past that I don't get a whole lot for my money when I order this simple sandwich at a lunch place. Here, though, the basic model ($7.50) is generous and thoughtful, a worthy marriage of aged and smoked cheddar, nicely offset by cracked peppercorn sourdough bread. The Artisan bread here is just as important a player as the cheese, particularly evident with the Beijing Mac + Cheese, a mix of asiago cheese, BBQ pork, and Hoisin sauce made sublime by scallion slivers and the crumbled ends of toasted bread sprinkled on top.
7) Triple Pork Poutine (Smoke's Poutinerie, 578 Queen Street West, $7.99)
You likely wouldn't leave Toronto without trying poutine, which originated in Quebec but is becoming prevalent in Toronto and elsewhere in Canada, particularly via chains like Smoke's. I was prepared not to enjoy this dish as I had already been eating nonstop, and the mix of French fries and mozzarella cheese curds drenched in brown gravy didn't pack a lot of appeal. But throwing caution to the wind, I tried some, and for good measure had it topped with pulled pork, sausage, and double-smoked bacon.
It was stupendous, and I'll go on record as saying that it is, to date, the best thing I have ever eaten. But the enjoyment of this dish probably also has something to do with messily devouring forkfuls of it out of a greasy brown box while roaming the polite and tidy streets of Toronto. It's one of those moments that will make you glad you came here.
Getting Around
Toronto is a manageable walking city and taxis are also plentiful if you want to strike out on your own to graze neighborhoods. If your time is short, as mine was, you might also want to take a culinary walk with a company like ChowBella, who escorted me during part of my intensive snacking tour.
I sampled these Toronto treats while I was a guest of Ontario Tourism. The opinions expressed here – and the heartburn experienced after eating all of these foods – are my own.
See our Toronto destination guide for general trip-planning information, then use our Travel Search price comparison tool to find the lowest rates on flights, hotels, packages, and more travel deals.