Why sleep in a concrete-and-glass building when you can stay in a vintage trailer, a Boeing 747, or even in a wine barrel? These quirky hotel concepts are totally refreshing -- and they give obsolete spaces a sustainable second life.
BaseCamp Young Hostel, Bonn, Germany
In the laidback city of Bonn along the Rhine, hotelier Michael Schloesser has gathered twenty-some Pullman rail cars, Airstream trailers, vintage caravans, and other transportation curios in a former storage facility to house 120 beds. But units comprising this "faux campground" are no ragtag fleet; the furnishings (including "front lawns") are the brainchild of Marion Seul, a TV and movie set designer. Private rooms cost €28 to €74 (approximately $35 to $94) per night, while shared rooms cost €24 ($31). All rates include breakfast and WiFi.
Jumbo Stay, Stockholm, Sweden
Aerospace fanatics can finally get a good night's sleep on this Boeing 747, which has been converted into bunk rooms that sleep two to four people, single rooms with private baths, and even suites. In your waking hours, get the once-in-a-lifetime chance to walk onto the plane's left wing, then fuel up with a meal and a drink at the onsite café. Prices start from 975 krona ($152) for private rooms and 450 krona per person ($70) for dorm rooms.
De Vrouwe van Stavoren, Stavoren, Netherlands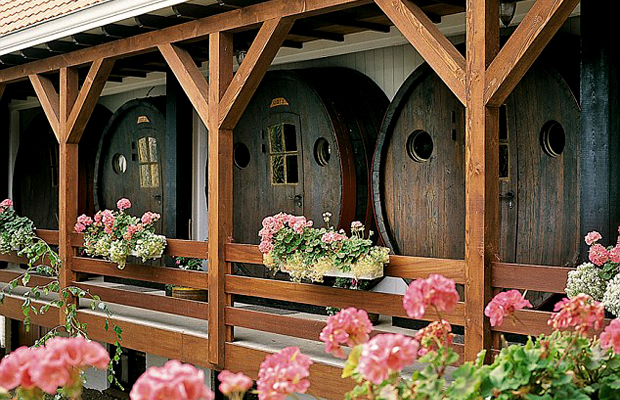 Each of the rooms in this harborside hotel once held almost 15,000 liters of wine. Today, the barrels are outfitted with beds, most with bathrooms and bathtubs. Amenities like radios and televisions are included, but we'd rather watch the ships come in from the restaurant conservatory as we enjoy one of the specialty fish dishes. Standard breakfast-inclusive rates are are €69.50 to €119.50 ($89 to $151) -- though you can find seasonal discounts of between 25 and 75 percent off, depending on the month and the length of your stay.
Prahran Hotel, Melbourne, Australia
So Prahran Hotel is actually a hotel in name only -- in practical terms, it's simply a pub. But we love the idea of dining and drinking in a draining pipe, and the visual effect is nothing short of stunning. The menu promotions don't hurt, either; Tuesday and Wednesday nights mean $14 AUS ($12 USD) porterhouse steak and chicken parm, and patrons pay what they think is "karmically fair" for beer during the Karma Kegs happy hours, a weekly charity fundraising from 5 p.m. to 7 p.m. on Fridays.