That "Pura Vida" saying you always hear about Costa Rica is actually true. This is a country that celebrates the pure and simple life with its unspoiled setting among jungle-like forested acres and miles-long beaches. It's also deeply immersed in sustainability, whether that means supporting local farms or repurposing building materials. Natural wonders like the Arenal Volcano and Monteverde Cloud Forest Reserve are absolute must-visits when here. To help you make the most of your vacation, we've rounded up everything you need to do in Costa Rica, from exploring the culinary scene to hitting the beach and everything in between. 
Beaches
Costa Rica has two shorelines: one along the Caribbean Sea and one that hugs the Pacific Ocean. Surfers tend to flock to the Pacific Ocean for higher waves and a slice of boho-chic surf culture, including Tamarindo in the Guanacaste region, which is located on the Nicoya Peninsula. Playa Blanca is a white-sand beach on the Pacific side, near Manual Antonio National Park.
On the Caribbean Sea side of the country, you'll find a mix of white-sand and black-sand beaches. In the seaside village of Cahuita, there are both. While Playa Negra is best known for its black-sand shorelines and surfing, Puerto Vargas has pristine, sugar-sand surroundings.
Jungles
National parks in Costa Rica are protected spaces that allow visitors to experience the rainforest and jungle environments. This includes Manuel Antonio National Park on the central Pacific coast. Here, you'll find lots of monkey species (from spider monkeys to squirrel monkeys). There's also the 3,700-acre La Selva Biological Station, which is often visited by scientists around the world and a popular attraction for nature lovers who are looking to learn more about Costa Rica's ecosystem. Corcovado National Park is home to scarlet macaws, tapirs, jaguars, squirrel monkeys, and other wildlife. The park — which features beaches, mangrove swamps, and rainforests — also has great hiking trails. 
Volcanos
Costa Rica has many volcanic points, but only five have erupted; that means tons of them are still active. Arenal Volcano National Park — which is near several hot springs that are worth a soak or two — is at the northern tip of the Tilaran Mountain Range. Poás Volcano is within Poás Volcano National Park, about 32 miles from San José, the nation's capital. The volcano has erupted 40 times since 1828, most recently in 2017. 
Cloud Forest Walks
You can't leave Costa Rica until you've strolled through a cloud forest. Monteverde Cloud Forest Biological Reserve in Puntarenas (a port town on the country's Pacific coast) is the nation's most visited, and for good reason. Mist, fog, and clouds set the incredible scene. Be sure to bring binoculars — you won't want to miss the wildlife spotting opportunities here. Alternatively, if you're looking for something more under-the-radar, consider visiting Braulio Carrillo National Park, which features 171 square miles of forest, located about 15 miles north of San José. 
Where to Stay in Costa Rica
Don't try to decide between a beach vacation and a forested vacation: Costa Rica offers both. Located within a 2,300 acre nature reserve in the Guanacaste region, W Costa Rica, Reserva Conchal features its own private beach. Another popular (and beautiful) destination is the Papagayo Peninsula. In recent years, the region has as welcomed big-name brands like Planet Hollywood Beach Resort, Four Seasons Resort Costa Rica at Peninsula Papagayo, and Andaz Costa Rica Resort at Peninsula Papagayo. If you're craving a wellness-centric experience and rustic settings, consider a stay at Tabacon Grand Spa Thermal Resort, which is located at the base of Arenal Volcano and best known for its hot springs. (Non-hotel guests can purchase a day pass to enjoy the springs.) 
Where to Fly in to Costa Rica
Costa Rica has international airports: LIR (Liberia, in the Guanacaste province), LIO (Limón, on the Caribbean side), and two in San José (SJO, Juan Santamaria International Airport plus SYQ, Tobías Bolaños International Airport). 
Things to Do in San José, Costa Rica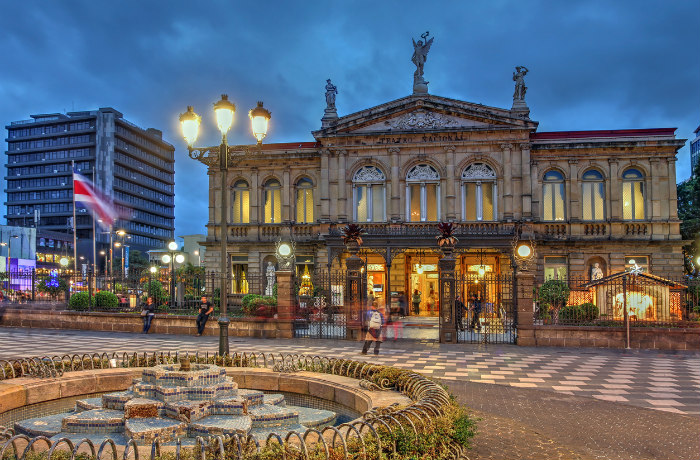 Costa Rica's capital city (and the largest, with 340,000 residents) flaunts a high concentration of arts and culture, as well as diverse dining experiences. Attractions include the National Museum of Costa Rica and National Theatre of Costa Rica (which has been open since 1897 and features gorgeous Neoclassical architecture). There's also the sprawling La Sabana Metropolitan Park, the country's largest park. San Jose is also home to an artificial lake, the Museum of Costa Rican Art, and the National Stadium of Costa Rica, as well as jogging facilities, tennis courts, and tons more. 
What to Pack for a Costa Rica Trip
Don't be fooled by the high elevation: Costa Rica can still get hot, especially during the day. Thankfully, temperatures cool down at night. We recommending bringing shorts, tank-tops, short-sleeve shirts, sunscreen or sunblock, and mosquito repellant. 
What Is the Best Time to Go to Costa Rica?
Costa Rica's dry season begins in December and ends in April. Try to plan your trip during this time so you aren't rained out of your favorite activities. This is also high season for tourists, so we recommend careful planning — and booking in advance.  Hurricanes are not a concern as Costa Rica lies below the hurricane belt. During the rainy season, June and July are the least wet.