Even if you only have a long weekend, Dublin is compact enough to hit all the highlights. This cultural and country capital is also Ireland's largest city along its eastern coast. With city parks, impressive museums, and boutique shopping that celebrates local knitters, artists and weavers (paired with shorter flights to the U.S. than from other European destinations) you might find yourself experiencing Dublin until the wee hours of the morning, especially thanks to the infamous pubs and their live music.
City Center
Tucked along Lower Leeson Street,  famous for its brightly colored doors and artful door knockers, House Dublin is fuss-free and well-designed. Its 16 rooms are divided between two adjacent, five-story Georgian houses (rates from $105 per night, depending on the season). Right across the street from St. Stephen's Green, the sleek, 192-room Conrad Dublin — which reopened in 2016 following a multimillion-dollar refurbishment — features a brasserie, a craft beer bar, and afternoon tea (rates from $209 per night, depending on the season). 
Temple Bar
Dublin's nightlife district is where The Temple Bar pub is located, but it's also a neighborhood layered with other pubs, tons of live music, and plenty of shops and boutiques selling everything from crafts to clothing. Stay within a few blocks of all the fun — but not in the heart of it — at the Radisson Blu Royal Hotel, Dublin (rates from $177 per night, depending on the season). If you're looking to save on accommodations without sacrificing on location, book a room at the 136-room Temple Bar Hotel. The contemporary hotel features its own bar and restaurant (rates from $109 per night, depending on the season).
Grafton Street
Often likened to New York City's Fifth Avenue because of its shopping scene, this pedestrian-only street is also home to several nearby hotels — plus, Trinity College is literally across the street. Consider a stay at The Westbury, where guests can enjoy afternoon tea; choose from two eateries; and end the evening with a nightcap at The Sidecar, the on-site, '30s-inspired bar. 
Ballsbridge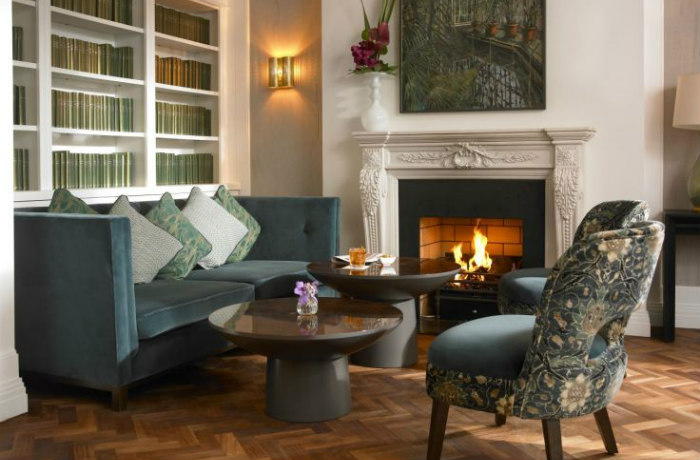 This tony neighborhood is home to embassies and other government offices, and it's just a short walk to St. Stephen's Green. The Dylan Hotel Dublin is housed within the former nurses' home at the Royal City of Dublin Hospital. Rooms here are luxurious and spacious and the public spaces are sleek, stylish, and sophisticated. Be sure to stop by Nurserie Terrace, the property's partially covered and heated outdoor lounge. Rates from $169 per night, depending on the season. Additionally, Ballsbridge Hotel — which features a whopping 400 rooms and suites plus a coffee shop, a pub, and a sit-down restaurant — offers incredible value. Rates from $110 per night, depending on the season.