Asbury Park rose to national prominence thanks to Bruce Springsteen's 1973 debut album Greetings from Asbury Park, N.J., but the seaside town -- having endured its fair share of ups and downs since then -- has newly re-blossomed, following a decade-long revitalization.
Situated along New Jersey's central coast, the town flourished from the late 1800s through the 1940s, and traces of its past linger in its restored Victorian homes and the iconic Convention Hall and casino that bookend its 1.25-mile boardwalk. A haven for artists and musicians, the town has a distinct culture -- part nostalgic, part avant garde -- that includes a rich arts and food scene at a beach-town pace. This year, Asbury saw the opening of its first new hotel in 50 years -- a testament to local efforts to restore the town to its former glory.
What to Do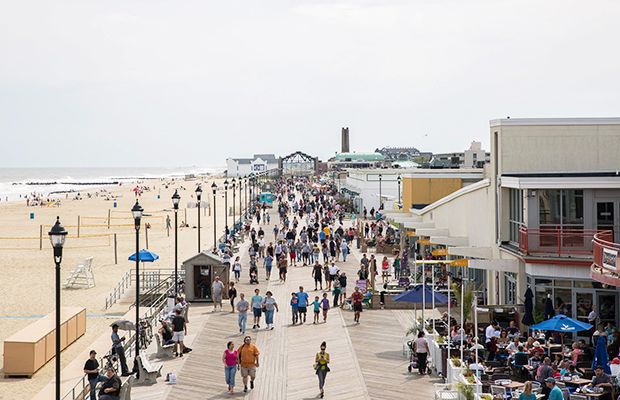 Of course, you have to start with the boardwalk, and Asbury Park locals know that beach season gets better after Labor Day. The best way to see it is by walking the boards from one end to the other, starting at Convention Hall and the adjacent Paramount Theater, and continuing down to the ornate shell of a former carousel (the ride itself was bought in 1990 and moved to Myrtle Beach) and the casino. Conceived by architects Whitney Warren and Charles Wetmore, who designed Grand Central Station, the casino now houses massive sea-inspired murals by local artist Porkchop.
In warm weather, stop for a cocktail at the laid-back Beach Bar, which wraps around Convention Hall and extends over the shore, or at Watermark, where daybeds and gauzy curtains create a swank rooftop setting to watch the crashing waves.
For kids (and kids at heart), the Silverball Museum has more than 6,000 new and vintage pinball machines, as well as classic video games from the 1980s. You can play all of them, on an unlimited basis, with timed passes that cost from $7 to $15.
Get your fortune told at the famous Madame Marie's. Nicknamed the Temple of Knowledge, the blue shack has been a local mainstay since psychic Marie Castello opened it in 1932 and read the fortunes of everyone from Judy Garland to Bruce Springsteen. Springsteen famously mentioned Marie in his 1973 song, "4th of July, Asbury Park." The Temple is now run by Marie's granddaughter Sabrina, who may or may not have truly inherited the gift, but the $5 palm reading is worth it to pay homage to the longest-running tenant on the boardwalk.
Shop
Asbury Park is all about nostalgia, and you'll especially see this reflected in its shops. Bettie's Bombshells sells pinup-style fashion -- think: polka dot high-waisted bikinis. The Antique Emporium is a massive three-storefront lot that peddles everything from midcentury modern furnishings to reclaimed stained glass windows from nearby Victorian homes. Shop retro kitchenware at Flying Saucers, and records and vintage music memorabilia at Hold Fast Records and Groovy Graveyard .
Art aficionados shouldn't miss Parlor Gallery, which curates 10 to 12 high-quality exhibitions per year, and the Collective Art Tank, which offers workshops, classes, and exhibition space for local artists. Watch or try your hand (and mouth) at glassblowing at Hot Sand, which offers classes and sells blown-glass housewares and jewelry. Big Spoon Little Spoon Naturals sells homemade organic soaps, pet care products, and non-toxic cleaning products.
The town's long-standing eccentricity can be summed up by Paranormal Books & Curiosities, which carries books on ghost hunting, parapsychology, past life regression, ghost stories of New Jersey, and much more.
See live music
Live music is a requisite while in Asbury Park, and -- with nearly every bar and restaurant hosting local bands -- you'll be hard-pressed to leave without catching at least one show.
The Stone Pony has been a sort of musical Mecca for stars on their way up; Elvis Costello, The Ramones, Cheap Trick, Blondie, Joan Jett, and Blue Oyster Cult have all played here. The venue opened in 1974 and within a year was facing foreclosure. The club was saved by The Blackberry Booze Band, whose regular gigs drew massive crowds. Band member Steve Van Zandt left the group to join his friend Bruce Springsteen in the E Street Band, and as The Boss began to frequent the club (and sell more albums), Asbury Park started to get national attention. The Pony has remained a resource for local emerging talent ever since.
Even if you haven't heard of the Wonder Bar, you might recognize Tillie, the iconic symbol of the Jersey Shore, painted on its facade. The bar has hosted its fair share of homegrown successes -- including Bruce Springsteen, Bon Jovi, Clarence Clemons, and Lance Larson -- but it has a grittier, more underground vibe. If a sweaty dance party to Japanese garage rock isn't your cup of tea, stop by during the day for "Yappy Hour" with your four-legged friend.
The Saint (formerly the Clover Club) on Main Street showcases local and emerging acts, as well as established performers, including Airborne Toxic Event, Cake, The Lemonheads, and Incubus. A dark, seedy vibe has kept it more under-the-radar than Asbury's other venues, and it's a good place to escape the crowds closer to the beach.
Where to Eat & Drink
Brickwall is a trendy sports bar with giant salads, burgers, and 24 beers on draft. For Italian, head to Talula's for a bowl of polenta or eggplant parm pizza; or try the more convivial Porta for fried artichokes, classic pies, and a game of bocce. On weekends, the massive rustic space hosts DJs and live music for dancing.
For brunch, head to Toast for the brie and bacon omelette or challah French toast, stuffed with either sweet cream cheese or Nutella. Speakeatery serves creative sandwiches, including the Ragtime Gal with brie, granny smith apples, and bacon on grilled cinnamon sugar toast; and the Egg Shen with fried eggplant, bok choy, scallions, toasted almonds, and ramen in a wrap.
For something more upscale, try Fish Urban Dining, which is housed in an old bank (built in 1885) and known for dishes like lobster truffle tagliatelle and crab carbonara; or Taka, a chic sushi joint. At Moonstruck, dine on the porch of a three-story Victorian home with ocean views while being serenaded by a string quartet.
Langosta Lounge fuses Hawaiian, Asian, and Latin influences in dishes like poutine with fries topped with an herb and black garlic glaze and bacon, and a sushi-grade tuna wrap with wasabi coleslaw. You can catch live music here, too, on weekends. For unfussy, authentic Mexican mole, head to Tapatia on Main.
Though Asbury is filled with hot newcomers, you shouldn't skip the old standbys -- there's a reason they're still popular. Main Street mom-and-pop shop Frank's Deli serves the best pork roll with egg and cheese -- a Jersey staple -- for less than $5. The family-owned Sunset Landing -- open since 1960 -- has pancakes in quirky flavors that include Nestlè Crunch and white chocolate chip macadamia. (Bonus: You can order individual pancakes, so you can try one of every kind.) Open since 1929, Criterion Candies on the boardwalk sells the area's best chocolates and confections. It doesn't get better than the dark chocolate-covered pretzels, peanut brittle, and famous Jersey Shore salt water taffy -- all made by hand.
For nightlife, Friday is drag queen night at Paradise club at the oceanfront Empress Hotel, New Jersey's only gay resort. Bond Street Bar has a massive basement-level space with darts, ping-pong, pool tables, and, occasionally, live music. They also serve quality $5 burgers -- including a salmon burger with wasabi mayo, and a solid veggie burger.
For a brew with a view, head to the rooftop Asbury Festhalle & Biergarten to enjoy nearly 100 beers with views of Wesley Lake and the beach. On weekends, they host live music (though it can be a bit loud), too.
There is nothing trendy about Johnny Mac's, but that's exactly why we love it. The Kelly green facade is covered with tchotchkes, like old trumpets and license plates. You'll also see signs that advertise free omelettes on Sundays and free pizza every day -- perks that make this a local favorite.
Where to Stay
It used to be that if you wanted to stay in Asbury Park, your options were the imposing Berkeley Hotel (built by the same architect as Convention Hall and the casino), which was abandoned for decades until a recent renovation, or The Empress. So when The Asbury Hotel opened last summer, it was a game-changer. Housed in the old Salvation Army building, the 110-room boutique property features rooms with modern Scandinavian-style furnishings, historic black-and-white photos of the beach, and ocean views. The original facade was extended to include a greenhouse space, where low, colorful couches offer a place to sit and read. As a dog-friendly hotel, it is common to see locals and visitors here on Sunday mornings, sipping cappuccinos and hanging out with their dogs.
An old movie theater board lists the evening's events, which include live music seven nights a week. The lobby bar, Soundbooth, is a nod to the town's music legacy and features an exhaustive record collection and a vintage record player that guests operate like a jukebox. Bleacher-style seating fitted with USB charging ports is set up next to the stage, and local street artist Porkchop provided chalk art on the walls. The hotel also hosts monthly drag brunches for charity. The last installment featured drag queens from the Orlando club Pulse and raised $5,000 for the families of victims of the shooting.
Outside, the pool is surrounded by floating bed swings and a fire pit; the adjacent beer garden has picnic tables, a retro Volkswagen van installed with taps for local beers, and a food truck that serves corn dogs and burgers. A separate elevator transports you to two rooftops: Salvation, an expansive bar, and a separate Astro-turf-covered deck where they project movies onto the wall. Above the screen is the original sign from the Baronet, a local theater that was demolished in 2010 after its 97-year run. The hotel also hosts yoga here five days a week.
Getting There
From New York, take the North Jersey Coastline train from Pennsylvania Station to Bay Head. Get off at Long Branch, and connect across the platform for the Bay Head train. Asbury Park is the third stop. From there, you can take an Uber or Surf Taxi to your hotel or walk to the bars on Cookman Avenue. From Philadelphia and cities that do not connect through New York or Newark, the easiest way to reach Asbury is by car, via the Garden State Parkway.