Our roundup of underwater hotels from last spring was such a crowd-pleaser that we'd treat you to round two, with a twist. Here, six overwater, floating hotels for a pretty wacky but totally luxurious escape.
Krystall Hotel (Tromsø, Norway)
Set to debut in December 2016, the 86-room, 5-star Krystall Hotel is a snowflake-shaped hotel that will float 220 miles north of the Arctic Circle. Accessible only by boat, it'll boast a self-sustaining operation, including a spa. While the cozy, Arctic decor -- think: ice-brick fireplaces -- promises to warm the bellies of guests, the allure of Krystall is in the glass ceilings, which will provide exclusive views of Norway's tree-lined coast and of the awe-inspiring Northern Lights.
Gili Lankanfushi, Maldives
Featuring 45 stilted rooms encircling a coral island, Gili Lankanfushi, Maldives lets you experience the island life without sacrificing any luxuries. "No news, no shoes" is what they say -- because when you can hop off your overwater sundeck for an swim, or bathe in the ocean in an open-air but walled off mini-pool, what's the point of putting on sneakers at all? And if you thought living inside your own island hut sounded romantic, just wait until you dine. Five words: wine cellar and chocolate caves.
Club Med Tignes (Val Claret, France)
Resort amenities, glacial surroundings, skiing, and...bikinis? Club Med Tignes perches atop a glacier and, surprising to many visitors, offers summer sun and the opportunity to mogul down the 10,000 foot Grande Motte glacier in your bathing suit. Sadly, this opportunity isn't likely to last, because the glacier's been receding over the past decades. Come while you have the chance.
Greenstar Hotel (Maldives)
From the masterminds of the Krystall hotel comes the Maldives' Greenstar Hotel, another funkily shapped floating resort, but this time with a focus on combatting climate change. Scheduled to be the the premier location for conventions about sustainability and the environment, Greenstar's 800 rooms will blend naturally with the surrounding islands, giving industry leaders and tourists alike to enjoy tropical weather with the future in mind.
Resorts on Palm Jumeirah -- Dubai, UAE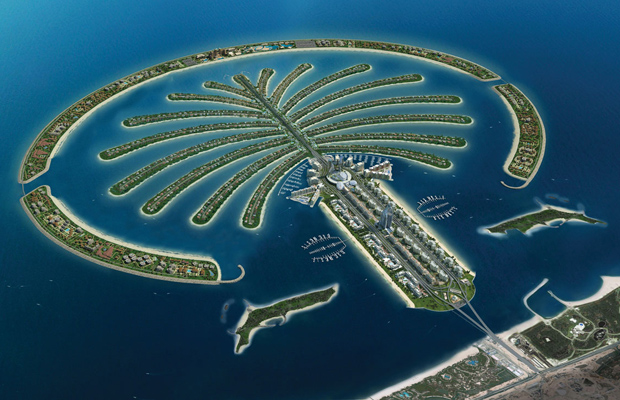 These days, Dubai is synonymous with sensational circumstances, from using airlifts as a way to get out of traffic jams to keeping tigers as pets. But perhaps a defining characteristic of the oil-rich nation might be the Palm Jumeirah, the man-made island community in the shape of a palm tree. A number of resorts besides the Jumeirah call the island home, including a Waldorf-Astoria, Atlantis, and Kempinski properties. You'll find everything from Ottoman-inpsired palaces to snow rooms here.
Salkt & Sill (Tjörn, Swedend)
Opened in 2008 as Sweden's first floating hotel, Salt & Sill brings the best of Scandinavian hospitality to the waters. It's primarily comprised of six two-story houses with a rooftop sundeck that's supported by buoyant platforms off Tjörn's Herring Island, plus a boathouse lounge and restaurant. But the latest innovation? Groups can dispatch a a two-floor boat of a floating sauna for some overwater spa time.