When it comes to Florida's Atlantic coast, there's always the beach. Miles of gleaming sand and pearly blue ocean have drawn visitors to Palm Beach County for generations. But beyond the shoreline, this part of Florida gives travelers much more to do than work on their tans. Here are three mini-itineraries, whether you're looking for a fun weekend away with friends, an art and culture-filled couples retreat, or a fun family vacation that will engage curious kids. For more ideas, check out the Cultural Council of Palm Beach, and don't forget your sunscreen.
The Girlfriend Getaway
Whether it's for a sophisticated bachelorette, or just a fun couple of days in the sun with a friend, the Palm Beaches make for a welcoming, variety-filled girlfriend getaway. Start the day at the Flagler Museum, a beautifully preserved and restored mansion built by Standard Oil founder Henry Flagler in 1902 as a wedding present for his wife. Soak up Lily Flagler's opulent chartreuse bedroom and floor-to-ceiling pipe organ, the gilded ballroom, and row after row of guestrooms done in a rainbow of colors. Admission costs $18 and hourlong guided tours, audio tours, and an app that takes you through the property are all free.
From there, drive south to Eau Spa at the Eau Palm Beach hotel for a different kind of luxury. Book a Thai massage, a hammam scrub, or a facial that uses precious stones, among other more standard treatments. Then, step into the Self-Centered Garden, where you can play a game of chess with giant-size pieces, stretch out in a cabana, or sit under a waterfall while you unwind, pre- or post-treatment. The best part? There are cupcakes in the relaxation room. Treatments start at about $150, and day passes for use of the Self-Centered garden, and the sauna and bath facilities cost $60. Look for specials in summer, when temperatures soar and crowds shrink in the Palm Beach area.
For dinner, head to El Cid, a historic and up-and-coming West Palm Beach neighborhood that's known for a bounty of antiques shops. For something unpretentious, there's Grato. Helmed by James Beard-nominated chef Clay Conley, the restaurant is welcoming, and caters to a lively local crowd. House-made pastas, brick-oven pizza, and entrees like herb-roasted chicken keep things simple and flavorful. Exemplifying this restaurant's highbrow/middlebrow aspirations: a perfect frozen Moscow mule, for those who like their vintage cocktails with party-time attitude.
The Arty Couples Retreat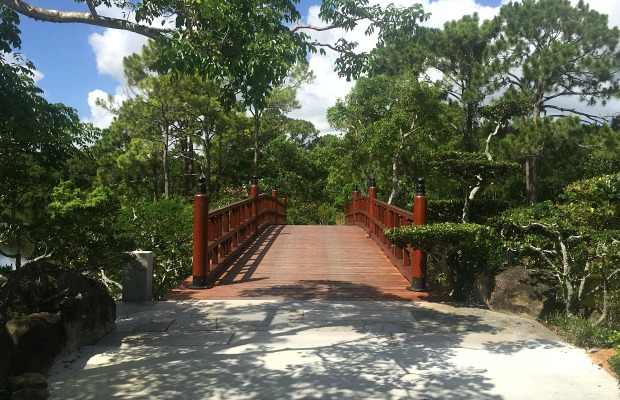 You could come to Palm Beach for days and never set foot on the sand. For the couple who'd rather immerse themselves in the city's rich museum and art scene, start at the Morikami Museum, a Japanese culture museum that encourages visitors to learn and participate, not just look at artifacts. During your visit, you may encounter a kimono or tea ceremony demonstration, or a lecture on the history of origami or sumo wrestling. Walk through the six interconnected gardens, each in a different traditional style, and check out the museum's suggestions for a daylong visit. Admission costs $15 for adults, with discounts for kids, students, seniors, and members of the military.
For lunch, stop by Farmer's Table, which focuses on healthy fare and is located in an attractive if unlikely space next to Boca Raton's Wyndham hotel. An ancient grains salad feels at home on the menu alongside barbecued Florida shrimp, and the options for vegetarians are abundant. Don't miss the roster of non-alcoholic but nonetheless creative drinks, including the Little Dove, which is made with tamarind soda, grapefruit, and black sea salt. Finish the day at the Boca Raton Museum of Art, which has an audacious collection that spans generations and genres -- from contemporary sculpture that glitters with Swarovski crystals to pre-Colombian pottery. Tickets cost $12 for adults.
The Adventurous Family Day Trip
The best thing about this short itinerary is that it works for kids of all ages. Middle schoolers, retirees, and everyone in between can appreciate these active -- but not too active -- and sites. Start the day at the Jupiter Inlet Lighthouse, a picturesque red-brick structure that's surrounded by a waterfront park. Climb to the top with a guided tour that includes not just the lighthouse itself -- it was built in 1860 -- but the whole area, which has been inhabited for 5,000 years. The accompanying museum paints a thorough picture of how Seminole Indians and European settlers lived on, cultivated, and fought for Florida's coastal lands. The most energetic members of your party will have no trouble climbing to the top of the light for a stellar view, while others will have just as pleasant a time enjoying the shade of the giant ficus tree at its base. It costs $10 for adults, and $5 for kids.
From here, head up to the Loggerhead Marine Life Center, which houses and rehabilitates sea turtles. Go with a guide who will introduce you to Balboa, Pearson, Judy, and their flippered friends, all of whom are healing from injuries and illnesses under the watchful eye of Loggerhead vets and volunteers. Kids will love seeing these gentle giants up close -- some weigh hundreds of pounds -- and anyone can take away an important message about conservation and the environment. Hourlong public tours cost $7 with discounts for kids, while private, small-group tours cost $10. For dinner or a late lunch, head to Guanabanas, where you'll dine under the shade of palm trees beside the slow-flowing North Palm Beach Waterway. Dig into locally sourced fish tacos, shrimp fritters, hot wings, and a host of other crowd-pleasing dishes while locals glide by on small boats and paddle boards.