San Juan is not just a place cruise ships visit mid-itinerary; many sailings also depart and end in Puerto Rico's historic capital. If yours is one of them, stay an extra day or two before or after your cruise to wander the city's cobblestone streets and soak up the heady, old-world ambiance at these memorable spots.
1. Stay at El Convento
Ideally located in the center of Old San Juan, El Convento has had at least nine lives since its construction in 1651. Its peaceful, vine-hung courtyard; proximity to the cathedral; and, of course, its name, attest to the hotel's original use -- a convent. But El Convento also spent time as a retail store, dance hall, and a flophouse before it was purchased by the heir to the Woolworth fortune, who turned it into a hotel. A major renovation in 1997 further evolved it into the luxury property it is today, complete with a ground-floor collection of Spanish colonial art, terra cotta tile, and spotless white marble bathrooms. And nothing beats having an expensive-but-worth-it cocktail under the massive, moss-covered tree in the courtyard, or at the balcony bar, which has a stone fireplace topped with the wax drippings of a generation of candles.
2. Drink at El Batey
You won't find a dirtier, cheaper, or more atmospheric bar in Old San Juan than El Batey. Join the throng of tipsy, sunburned locals and tourists who spend their days and evenings here downing $3 cans of Medalla beer, scrawling their names and personal mantras on the walls, and playing John Lennon, Led Zeppelin, and Nirvana songs on the formidable jukebox.
3. Have Dinner at Marmalade
If you're going to splurge on one meal before you set sail, this is where to do it. The veggie-heavy menu stresses locally grown produce and a series of tasting and pairing menus. Reservations are a must if you want to sit anywhere but at the bar.
4. Catch the farmer's market
If you happen to be in town on a Saturday -- and you might; many ships depart from San Juan on Saturday afternoon -- check out the Mercado Agrigola Natural, which takes place in the internal courtyard of the seaside Art and History Museum. You'll find fresh coconuts, mangoes, bananas, and star fruit alongside more typical garden picks like tomatoes and onions. The festive market draws locals in droves and offers a glimpse at the island's highest quality produce.
5. See the cemetery
San Juan's colonial-era cemetery, situated just beyond the city's imposing stone battlements, makes for a memorable early-morning or late-afternoon walk. From the distinctive pink-domed mausoleum to the dramatic location overlooking the Caribbean Sea, you'll see why San Juan chose this as the final resting place for its most elite citizens.
6. Wander the ramparts
You can't exactly miss them -- the walls of Old San Juan surround the city and will be distinctly visible as you sail away on your ship. But take some time before you embark to walk along the walls, which have withstood attacks from the English in 1595, the Dutch in 1625, and from the U.S. Navy in 1898, among others. Stand in one of the sentry boxes and imagine the soldiers who manned them throughout history -- and of course, take a selfie.
7. Have cocktails at La Factoria
If the dingy atmosphere at El Batey isn't quite your speed, you'll find a more refined crowd -- and atmosphere -- at La Factoria. Lavender, house-made bitters, and ginger beer are just a few of the ingredients you'll see on the rotating cocktail menu here, all of it served by a passionate crew of young bartenders who are happy to customize drinks to your liking. There's also an adjacent wine bar if that's more your taste.
8. Grab coffee at Cafe Quatro Sombras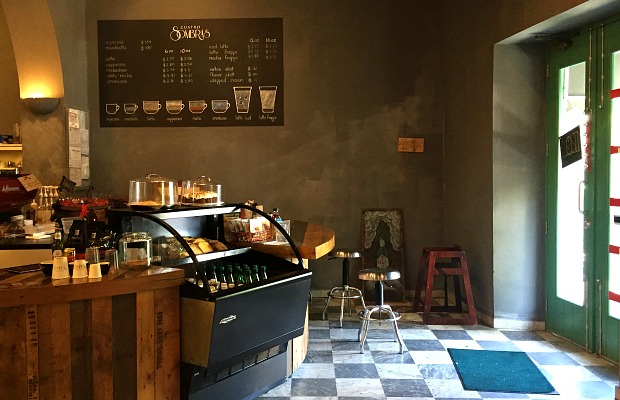 One of the island's handsomest coffee shops is just a stone's throw from the cruise port, so you can load up on high-quality caffeine (and maybe a piece of homemade banana bread) before you board. Cafe Quatro Sombras roasts its 100-percent locally grown arabica beans on the premises and even offers tasting classes.