With new nonstop flights on JetBlue via its New York City hub, it's easier -- and more affordable -- than ever to get to Palm Springs. And the city's booming hotel scene is ready to greet you when you get there. New and reinvented properties abound, with options for almost every kind of traveler. We recently visited some of these hotels, and here's what we found.
For the Minimalist Millennial: The Amado
White walls, cool concrete floors, and unfussy furniture and linens are the hallmarks of this airy property, which is situated in a residential neighborhood and blends seamlessly with the midcentury modern homes around it. Conceived by photographer and entrepreneur Jaime Kowal, who has become a Palm Springs fixture in recent years, The Amado can only be booked on Airbnb. Five rooms wrap around a picture-perfect swimming pool and can be reserved individually, or en masse for a party or special event. Kitchens in each unit mean you can plan meals at leisure, and an electric car-charging unit out front reminds visitors exactly who Kowal envisions as her ideal guest.
For the Whole Family: La Quinta Resort & Club
This sprawling Waldorf Astoria resort covers so many acres that the surrounding town was eventually named after it. Once a retreat for Hollywood types looking to escape the city smog (Frank Capra wrote Lost Horizon here), the hotel adopted a like-home vibe. Guests stay in red-roofed casitas done in Spanish-style tile and dark wood; some have fireplaces and furnished terraces with views of the mountains, and all of them have easy access to one of the property's 41 swimming pools. On-site restaurants, 90 holes of top-tier golf, a village of shops, and a full roster of activities like power yoga and movie nights mean that leaving the property isn't strictly necessary during your stay, and that your whole party -- from toddlers to grandparents -- will have plenty to do. The real joy of La Quinta, however, can be found in the grounds themselves. Flower beds, cactus gardens, and fruit trees can be discovered around every turn, and are maintained with almost obsessive precision by the resort's staff.
For Party Girls and Boys: The Saguaro
Painted in DayGlo colors, this former Holiday Inn has been given bold new life as an occasionally cheap, extremely cheerful hotel. Nothing in town quite rivals the hotel's stunning pool area, which has been a fashion and design magazine darling in the four years since its re-opening. This hotel is one of the prime locations for Splash House, a seasonal pool party with DJs and live music. For those looking for a soothing respite from the desert heat, this probably isn't the place for you; some of the room features still feel distinctly Holiday Inn-ish, despite the chic paint job. But if you're looking to truly indulge in Palm Springs' carefree sense of sun-drenched booziness, we can't argue with this choice.
For the Impeccably Stylish -- and Impeccably Discrete: L'Horizon
If you've come to Palm Springs in search of its throwback glamour, designer Steve Hermann's first hotel project has plenty of it. Overlying the hotel's beautiful mid-century bones are contemporary textures, colors, and amenities. Think: animal hide rugs, printed wallpaper, and wafting scents by Le Labo. Spotless white furniture surrounds the angular infinity-edge pool, and throughout the property you'll hear the peaceful sounds of small fountains and water fixtures that are built into the many cactus gardens.
For Those Who Only Trust the Old Standby: The Parker
This Palm Springs classic, with its cheeky Jonathan Adler-designed spaces, remains the steadfast It-girl of Palm Springs hotels. If you've stayed before and are looking for a new thrill, seek out the villas that surround the pool. They're hidden amidst the towering garden greenery and feel especially exclusive.
For the Unpretentiously Hip: Sparrows Lodge
The rules are simple: No kids. No groups. And if you want an adventure, you're welcome to discover it yourself. Such is the vibe at Sparrows Lodge, which doesn't have its name printed on the sign, and welcomes guests not with a formal check-in desk, but with a stone fireplace burning and an oversized art book, open and ready for browsing. The non-structured, non-prescriptive theme carries throughout the property, and gives its lush central courtyard an air of languid peace. Guests meet twice each week under a leafy arbor for a family meal, and the occasional s'mores party is not unheard of. The owners Richard Crisman and Jeff Brock have decorated the rooms with their own art, and with selections from their own libraries. Guests will have as much fun exploring this boutique property as they will the city around it.
For the Pretentiously Hip: The Ace Hotel & Swim Club
Beards. Tattoos. Oversized glasses. Girls doing their best Stevie Nicks impression. It's all here at the Ace Hotel and Swim Club. The good news about this property -- which is terribly au courant, and very much knows it -- is that, like other outposts of the Ace brand, it gets the important stuff right. Its rooms -- all canvas and cotton -- feel like the perfect place to hide from the blazing heat, while the pool area is active without a hint of party-hard craziness. King's Highway, the Ace's restaurant -- is a former Denny's, one of the few in the country that had a bar -- and now serves a killer avocado toast. If you can get past the pervasive sense of self-awareness, there's much to love here.
For the Silver Anniversary Couple: The Chateau at Lake La Quinta
Situated on a 25-acre man-made lake -- complete with a spouting fountain in the center -- this charming inn is perfect for a special celebration. A recent renovation added 13 lake-view suites with contemporary quirks like blown-glass chandeliers and bright-patterned pillows and throws. Have a glass of wine by the outdoor, lakeside fire pit and enjoy the view of the red-roofed surrounding community, or dine at the restaurant, Mélange, which serves New American fare with ingredients sourced from local farms.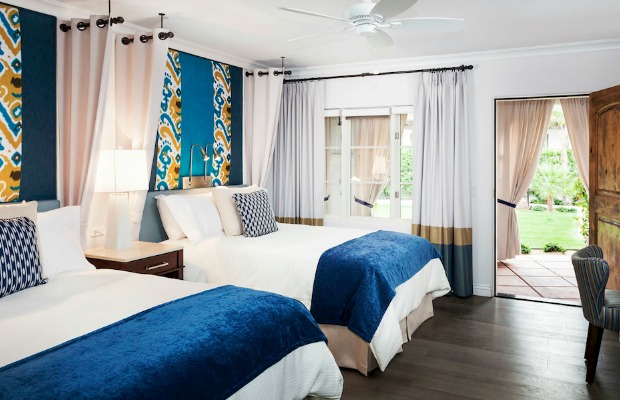 For Those Who Have to Be in the Center of It All: The Triada
Location is key at Triada Palm Springs, which is part of Marriott's Autograph Collection. Unveiled last year after an $8 million dollar renovation, Triada was given a complete overhaul, unveiling 56 uniquely revamped guest rooms that form a perimeter around two newly remodeled pools, sundecks, cabanas, and a low-key restaurant, Iluminara. The Spanish-style hacienda is located in the Movie Colony of Downtown Palm Springs, a convenient walk away from many of the area's popular restaurants and boutiques. As for the atmosphere, Triada manages to work for both younger and older crowds, offering a serene scene around the pools and plenty of seats to relax under the desert sun.
For the Early Adopter: Arrive
In a town best known for its mid-20th century architecture, Arrive has gone contemporary in its 32 stylish yet relaxed guestrooms. Amenities include free WiFi, DirecTV, Apple TV, rain showers, Malin + Goetz bath toiletries, and minibar snacks at reasonable prices. What's missing, however, is a room phone. Guests are encouraged to text the staff for whatever they might need. They're also required to check in at the hotel's restaurant and bar; there's no front desk. There's no age guideline, however, for the hotel's two main activities: soaking up the sun around the hotel's 66-foot poolside oasis (the weekly pool party is called #AssistedLiving) and making friends on the bocce ball court.
Brand New: The V Palm Springs
We haven't had the chance to stay here yet, but the V Palm Springs, with its chevron-shaped pool and balconies overlooking the mountains, has us craving a return flight to Palm Springs. This property, which just opened in March, is looking to balance relaxation with an active pool scene. If you'd like a sneak peek, the property is offering 25 percent off its standard room rates through 2016.
Additional reporting by Juliana Shallcross and Zach Laks