This year we're changing things up a bit and offering 10 domestic destinations since a lot of folks are staying close to home. But when it's time to travel abroad, we want to inspire your wanderlust. So, for the first time ever, we're adding five bonus international destinations to earmark for your next trip. From an unknown wine country in California to the mountains in North Carolina, here are the best budget destinations of 2021. 
Livermore, California  
There's never been a better time to travel for wine tasting. Those open vineyards with plenty of fresh air and space make for an ideal socially distancing vacation spot. But there's more to California wineries than Napa and Sonoma. Livermore is located on the very eastern edge of San Francisco's Bay Area in Alameda County, in the Tri-Valley part of the state. The sunny weather and beautiful rolling hills were originally meant for cattle, but have since become known for its vineyards with nearly 100,000 acres of grapes; the Mediterranean climate with warm days and cool nights make it a fine growing location. The area is one of California's oldest wine regions, but still remains unknown to many. More than 50 tasting rooms dot the quaint town, and the vibe is very laid-back. In Livermore, you won't find flashy tasting rooms or $50 tastings – it feels more like visiting a family friend's home with outdoor picnics and super affordable wine (tastings average around $15). A few favorites: Three Steves Winery, Wente Vineyards, and Concannon Vineyards. And it's not all about wine here; Livermore has craft breweries, fantastic restaurants, and a very charming downtown. Lodging ranges from well-known chain hotels to upscale bed and breakfasts like the Purple Orchid Wine Country Resort and Spa, where each room has a fireplace and includes tons of extras like a gathering hour with wine, olive oil tasting, and cheese board each evening. (Rooms can be found for under $200 per night).
Asheville, North Carolina
Gorgeous mountains, incredible hiking, fine dining, and craft breweries? That's just a skosh of what Asheville offers visitors. The city is ringed by the Blue Ridge Mountains at the confluence of the Swannanoa River and the French Broad River. Known as both "The Land of Sky" and "Beer City USA" the city has been a more recent tourist destination in the South and offers something for pretty much everyone: There are loads of hiking trails, restaurants that range from hip-but-inexpensive Indian fare to fine dining. At last count, Asheville has 33 breweries; among our favorites are Burial, Wedge, and Green Man – but decide for yourself; your own walking brewery tour is not only affordable, but fun. As far as lodging, the Hilton Garden Inn is new, affordable, and has a fantastic rooftop bar, but it's worth splurging at The Bunn House. And we'd be remiss not to mention the Biltmore Estate, it's not an affordable ticket, but impressive in every way.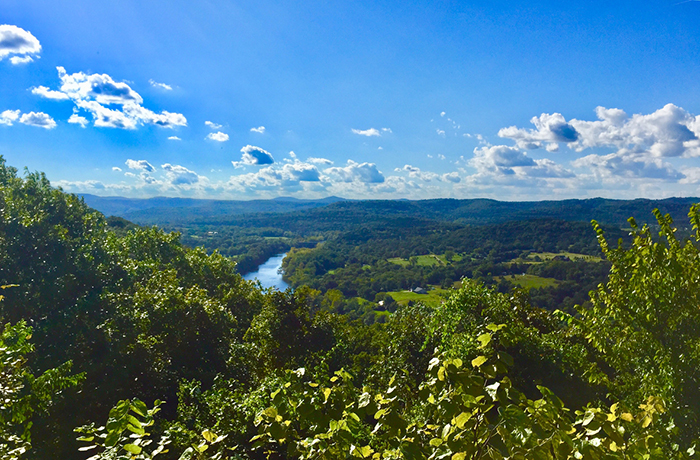 Eureka Springs, Arkansas 
This small town that sits in the Arkansas Ozarks is full of surprises. Part of Northwest Arkansas, a fast-growing region of the state, Eureka Springs still feels like you're stepping back in time. It's a liberal community, full of artists and makers, where mid century-modern homes and Victorian architecture rest upon the town's hot springs, which are said to have curative qualities. The town is easily explored on foot, offering loads of charming shops, spas, and restaurants. But perhaps the most inviting quality is that Eureka Springs is surrounded by lakes and parks, and trails – the hiking, boating, fishing, and even caving are spectacular (and free). Devil's Den State Park and the Buffalo River are particularly impressive. Lodging can be quite affordable, with a smattering of bed and breakfasts like Arsenic and Old Lace, where rooms start at $125 and you can stay in a treetop suite (with a fireplace and whirlpool), surrounded by nature for $160. Alternatively, Eureka Springs is known for the  Crescent Hotel and Spa, often touted as one of the most haunted hotels in America. Built in 1886, the luxury property is perched high above the town, and in addition to a spa and restaurant, the hotel plays host to ghost tours, too.  
St. Petersburg, Florida
While St. Petersburg often gets lumped in with Tampa (it's technically a suburb) the two places feel worlds apart. While Tampa feels big city, St. Pete (as it's called by locals) has a laid-back surfer vibe; which makes sense: the city has some of the most beautiful beaches in the world. The white-sugar-sand and bright blue waters can be found for free, many of which are dog friendly (Fort De Soto Park is a favorite), with plenty of open air to roam, surf, swim, picnic, and even camp. Downtown St. Pete has an artsy-boho feel with cute local shops, restaurants, and craft breweries. The city is also a hidden gem for art lovers. There's the Dali Museum, with surrealist works; the Museum of Fine Arts; the super-impressive Chihuly Collection; and the Imagine Museum. There are loads of incredible murals too. Allegiant Air offers incredibly low rates and flies directly into the St. Petersburg, Clearwater Airport. 
Austin, Texas 
Austin certainly isn't an under-the-radar destination. In the past decade, tourists have been flocking here in droves for the laid-back vibe, great music, food, and outdoor activities. And yes, it's hipster-y, so if that's your thing, you'll love it here. If it's not, you'll probably still love it here. First, you'll find a host of hip, stylish, and affordable hotels: a favorite is the Austin Motel on South Congress. The place feels historic and retro (because it is; the hotel was built in 1938), but completely stylish with its colorful and kitschy room decor to the kidney-shaped swimming pool; rooms run about $140 per night. Just next door is the Hotel San Jose, which feels sort of like the Austin Motel's older, stylish sister (with a higher price tag, to boot). What to do? You might not think that a city in the middle of Texas would offer a lot in terms of outdoor activities, but you'd be mistaken. Austin has incredible hiking and biking trails, and even climbing if you're so inclined. Our favorite is a refreshing (often cold) swim in Barton Springs Pool. Get in line for the diving board and bounce into the spring-fed water. And finally a trip here wouldn't be complete without live music – everything from honky-tonks to rock bars can be found. Cap off the evening with some seriously (and affordable) good TexMex. 
St. Paul, Minnesota 
Here's the thing: We feel like St. Paul doesn't get enough love. The state's capital is one part of the marriage of Minneapolis that forms the Twin Cities and is separated by the Mississippi River. They act a lot like fraternal twins: Minneapolis is buzzy, bright, and hip – St. Paul offers a more historical feel, with lots of green space and plenty of culture. The city has over 100 historical sites (St. Paul dates back to 1849), most of which are free. A few favorites: The Cathedral of St. Paul that's modeled after St. Peter's Basilica in Rome, the Landmark Center, and Summit Avenue, which boasts the largest stretch of Victorian homes in America. The destination is ideal for art enthusiasts, with the Bell Museum (the state's official natural history museum), the Science Museum of Minnesota, the Hmong Cultural Center, or the Minnesota History Center. And for something a bit off the beaten track (and underground), check out the Wabasha Street Caves ($10 per tour), once home to a restaurant and speakeasy rumored to be frequented by gangsters. The downtown area has become increasingly popular in recent years, with great restaurants, theaters, and a baseball stadium. But don't sleep on the West Seventh neighborhood for art galleries, breweries, dive bars, and boutiques. Hotels are affordable here; The Saint Paul Hotel runs about $125 per night, while rates at the InterContinental St. Paul Riverfront can be scored for under $100 per night. And you can't leave St. Paul without eating a Juicy Lucy, a burger with cheese inside the meat instead of on top), at The Nook, just $12 a pop. 
Las Vegas, Nevada 
Let's get this out of the way: A crowded club in Las Vegas or a night partying on The Strip might not be the best idea right now. But there's a side to Vegas that a lot of people have never explored and it's all so much more affordable. Las Vegas looks a lot different right now, and that's not a bad thing. All public places have a mask requirement and you'll find plenty of free masks, hand sanitizer, and even hand-washing stations with water and sinks, and it's worth it to pop into the Bellagio for the iconic fountain show and Dale Chihuly's blown glass art instillation (both free). But perhaps it's time to consider the city for new offerings. The Neon Museum and the Mob Museum have reopened and can only be visited by purchasing timed tickets in advance so it almost feels like you have the place to yourself. You may not envision Sin City as an artsy destination, but it's full of surprises. The Arts District or 18b – a neighborhood that bridges The Strip with the downtown area – feels like the cultural hub of Vegas. The Arts Factory is 18b's warehouse space with multiple studios and workspaces. There are also galleries, craft cocktail bars, microbreweries, and hip restaurants (most with fantastic happy hours). Just a half-hour outside of Vegas is the Red Rock Canyon, a spectacular 13-mile drive with hiking trails and camping ($15 per vehicle; $30 annual pass). Traveling during the week can often yield unheard of hotel rates; The Luxor was found for $32 per night; the New York New York for $39; Downtown's recently renovated D Las Vegas for $25; and the five-star ARIA Resort & Casino for $125. Discount airlines like Spirit and Southwest fly into the McCarran International Airport, with deals that often drop below $50. 
Steamboat Springs, Colorado
It's impossible not to think about skiing when it comes to Steamboat Springs, but some of the best – and certainly the most affordable – side of this Colorado mountain town can be found in the spring, summer, and fall months. Plus, there are fewer crowds. First up are the springs for which the town has been named. Old Town Hot Springs, where pools have been for over 100 years, feels more waterpark-like with eight spring-fed pools and a waterslide ($22 for adults). Strawberry Park Hot Springs is nestled into the mountains and feels a bit more rustic ($20 per person). Another fantastic activity here is hiking, and there are trails for all skill levels. Fishcreek Falls is surrounded by thick pine trees and culminates in a 280-foot waterfall ($5 per day). The Gilpin Lake trail, surrounded by wildflowers and a bright blue lake, looks like something out of a storybook (free). Mild weather also makes for the idea time to try a post-hike outdoor happy hour: Aurum Food & Wine has a gorgeous outdoor patio with a firepit and offers a daily happy hour. Besame has incredible tapas, a quaint patio, and a happy hour menu. Steamboat's off-season lodging can be particularly more affordable with hotels ringing in at under $100 per night; camping that starts at $10 per night, and large home rentals (great for the family) at nearly 50% off seasonal rates. 
The Finger Lakes, New York 
The Finger Lakes – comprised of 11 narrow-bodied lakes that resemble digits from an airplane window seat – make for an ideal, affordable getaway during these socially distanced times. This vast region of Central New York is home to more than 175 wineries, vineyards, breweries, and cideries, many with spacious indoor/outdoor tasting rooms. At Dr. Konstantin Frank – New York's most award-winning winery – a progressive tasting of five wines costs only $10 per person. Hike off the buzz at one of 20-plus state parks in the region, including Letchworth State Park, hailed as the Grand Canyon of the Northeast. Immerse yourself in local history at the Women's Rights National Historical Park in Seneca Falls (access is free). When you're ready to rest, consider a stay at The Lakehouse on Canandaigua (king rooms from $320 per night), a new five-star hotel on the northland of its namesake lake.
RVing
Domestic travel experienced a boost in 2020, and the trend will only continue into 2021. Much of this is a result of many travelers deciding to stick closer to home and drive to nearby destinations – and a number of them are turning to RV rentals to enjoy some comforts of home while on the road. What makes RV rentals so appealing is that there are so many affordable options for drivers of all levels (starting from as little as $30 per night, depending on your pickup location). These range from small trailers that hitch to the back of your vehicle to campers that provide a little more space to motorhomes equipped with a bedroom, bathroom, and kitchen – cutting out the need and cost of checking into a hotel. A few of our favorite and super affordable destinations? California's Central Coast, the Arizona desert, and Florida's Lee County. 
Bonus: Top International Destinations for 2021
All of us at ShermansTravel have been dreaming about jumping on a plane for a vacation. And for a lot of us, we want something that can almost encapsulate everything we love about travel. Below are five international options that offer stunning beaches, terrific food, and plenty of local culture. In a nutshell: the best of everything. 
Cartagena, Columbia 
When a city has its own Unesco World Heritage Site, it's always worth a visit. Cartagena, the country's oldest port city on the Caribbean coastline, makes for a fantastic budget-friendly vacation. This city feels like the perfect marriage of beachy charm to a bustling hub with plenty to see and do. Here, you'll find most of the hotels and restaurants in the Old Town – that's the aforementioned Unesco site; it's surrounded by walls that were built by the Spanish and called "the walled city." The cobbled streets that are chock-a-block with colorful buildings feel almost like you're in a classic movie. Most of the city's attractions are free: the famous Clock Tower, street graffiti, the Plaza de Bolivar, Catedral de Cartagena, stunning architecture, the church of San Pedro Claver (or many of the other churches), or simply a sit in one of the many leafy courtyards. For a small-ish city, there's an almost-overwhelming variety of dining options, from high-end fine dining to street food; don't miss getting an arepa (a small inexpensive savory hand pie) and visiting a La Paleteria for a fruit popsicle – you'll appreciate the cooling affect most of the year. El Portal de los Dulces, or Sweets Street, sells inexpensive local sweets like panelas; perhaps you'd enjoy a dulce de leche confection from carts. Hotels here can be very affordable and range from contemporary sleek to traditional Spanish colonial. A favorite is the Alfiz Hotel, a boutique property set in a 300-year-old home that is utterly charming, with a lovely breakfast and a plunge pool can be found for about $100 per night. If you're looking for a beach, tack on a few days to move from the old town and hit up the Bocagrande district with swanky hotels and miles of beachfront. 
San Jose del Cabo, Mexico 
Situated at the tip of Mexico's Baja Peninsula, Los Cabos encompasses two distinct towns: Cabo San Lucas and San José del Cabo, each with two very different personalities. San Jose, our pick for this story, has a less bustling, more charming vibe that feels more like old Mexico. There's an artsy feel here that can best be explored by strolling along the city's Plaza Mijares, or during a self-guided gallery walk in San Jose's Art District. One of the best parts of visiting San Jose is the slow, leisurely pace of life. It's also renowned for the fabulous food scene. You can get delicious and affordable tacos at La Lupita; Mexican coffee at the stylish Coffee Lab; and you don't want to miss a visit to Flora Farms, a 25-acre organic working farm in the foothills of the Sierra de la Laguna Mountain. This true farm-to-table restaurant has earned its reputation for being one of the best restaurants in Mexico for good reason. Here, the menu is created using food raised on the farm; cocktails are unique and delicious; and there's an on-site bakery for breads and pastries. Plus, it's well priced for the freshness and inventive dishes; a "farm lunch meal for two" might include a roasted chicken, couscous salad, baguette, dessert, and bottle of wine for $55. Guests can take a free pre- or post-meal garden tour to learn about the history and evolution of the farm. If you can't make it out to this desert oasis, Flora Farms has a small shop in downtown San Jose where visitors can buy produce and baked goods. For lodging, hotels like Drift offer super stylish accommodations for rates that often dip below $100. Just steps from the ocean, rooms have soaking tubs, provided snacks, hammocks, and contactless check in. Hotel El Ganzo has a private beach club, a great spa, and beautiful rooms. (Luxury beachfront rooms run about $250.) A few tips: Try to time your visit during the whale migration during December to March. Visitors can take boat tours to see the majestic mammals, but it can easily be seen (for free) from the shore. Additionally, Mexican tourism destinations – especially in this area – have created deals and upgraded amenities to lure travelers. 
The Albanian Riviera 
Anything with the name "riveria" sounds pretty dreamy and Albania's coastline is no different – except that it's incredibly affordable. Albania, hugged by Southern Italy and Greece, has its own Riviera that's situated on a 125-mile stretch along the coastline of the Northeastern Ionian Sea. Think of it as the new Dalmatian Coast. Getting there is a lot easier than it used to be: European airlines (like Lufthansa and British Airways) offer flights directly into Tirana, where you can easily rent a car to drive along the coastline and stop at some of the world's most beautiful beach towns. First stop Durrës, where you'll find luxury hotels like the Palace Hotel & Spa Durres or the luxury Adriatik Hotel & Spa, both set along the coast with rooms that run about $55 per night. Further south is Vlora, with properties like the Hotel Regina Blue, running about $53 per night or the super-swanky Yacht Hotel for about $80 per night. A good end to the Riviera road trip would be Ksamil, where you can rent an apartment for about $40 per night. In this utterly charming seaside town with empty beaches, you'll discover the Unesco World Heritage site of Butrint. It's here you'll find the fish and mussel farms. On that note: While in any of the seaside towns, it would be remiss not to focus on seafood; it's fresh and affordable (averaging about $10 per plate), being pulled right from the nearby waters. Skip the hotel restaurants and dine waterside – anywhere from a seafood shack to white tablecloth. And if you tire of crustaceans, the Italian influence has resulted in an abundance of good pizza. Have either with a carafe of good wine for about $5. It makes sense: Albania is one of the oldest wine-producing countries in the world. 
Luang Prabang, Laos
Laos often gets overlooked for the likes of Thailand or Vietnam (which are also fantastic), but don't sleep on this Southeast Asian country. In the heart lies Luang Prabang, the ancient capital that lies in a valley at the confluence of the Mekong and Nam Khan rivers and feels like the perfect marriage of Southeast Asia and France. Accommodations can start around $30 per night, and you'll get a lot of bang for your buck at hotels. For something splurgy, try the Satri House – a renovated former royal residence that's now a lovely colonial-style hotel (rates start at $150 per night). The rooms are pretty with four-poster beds and dark wood furnishings, and there's a big swimming pool with daybeds, complimentary hats, and a great bar. The hotel's an ideal home base, within walking distance to everything in the small town. Hop on a (free) cruiser bike and hit the low-key night market, hike Mount Phousi (free), and spend the evenings at the many charming cafes, wine bars, and restaurants. Laotian food is some of the best in the region, and the most affordable. Cuisine ranging from classic Laotian – think: a sweet-and-bitter balance of sticky rice, fresh fruits, minced meat laap, and fermented fish padaek. A streetside meal often runs about $3. Finally, don't miss a trip to Kuang Si, the ice-blue waterfalls and pools that make for an unforgettable experience. (Entrance fee is $2.30.) 
Costa Rica
Costa Rica is paradise for nature lovers, and it's just a short flight from the U.S. – making it an ideal quick-to-get-to destination with plenty of space to roam. You'll most likely fly into the capital of San Jose to spend at least one night. The Hotel Aranjuez offers private rooms that start at just $46 per night for a private room with wifi, a tranquil neighborhood within easy walking distance of the city center, helpful staff, and the city's best hotel breakfast buffet with breads, salads, fruits, juices, and hot dishes. From San Jose, visitors can spend time in the lush jungles; one of our favorites is the The Springs Resort & Spa, located in the Arenal Volcano Park and features bungalow-style rooms that make it extra secluded. Guests can soak in the resort's springs while taking in views of the rainforest. Don't skip a visit to the coast. Ojochal, set along the Pacific coast, feels like a locals-only paradise where you can swim in waterfalls, sunbathe in the sand, snorkel, or surf the waves. The Bali Rica Casitas feel both authentic and luxurious. The casitas here start at $60 per night and have their own kitchen (stocked with fresh fruit and eggs), seating areas, and small outdoor pools. But one of the best reasons to visit Costa Rica is the food. Dishes are locally sourced and inexpensive: Gallo pinto, a rice and beans dish often eaten three times a day, and fried or candied plantains, are just two local favorites. A new Costa Rican cuisine has emerged in recent years that features modern fusions of indigenous flavors and can be found in pockets all throughout Costa Rica, such as the Barrio Escalante district.